August 2016
Red-hot barbeques raising cash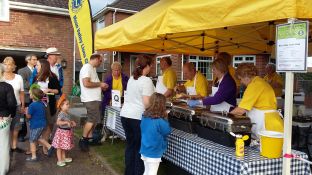 It's been a busy fundraising summer for the Meon Valley Lions Club with six barbeque events in July and August. Recent events at Swanmore College of Technology, Shirrell Heath Holiday Club and the Wickham School Fun Day, have raised hundreds of pounds for our charity account, money we need for distribution to people and groups in need in our local area.
We'll be back providing further BBQ services at some upcoming events in the area, including the Taste of Wickham Food Festival in Wickham Square on Sunday 11th September. This event may only be in its third year, but has already become a major Hampshire attraction. Last year there were over 5,000 visitors, 60 stalls, five cookery demonstrations, six musical acts and loads of free activities - and this year's event is promising to be bigger and better than ever. The Meon Valley Lions Club BBQ will be installed outside Tull's the Butcher, who is providing all the delicious meat ingredients for our stall. We served over 600 portions in around 4 hours last year and we're looking for support from you to help us beat that record! For details just follow the link above or go to their Facebook page.
If you fancy an evening bash, we'll be back less than a month later at the Wickham Charity Beer Festival for the autumn event on Saturday 8th October. See you then! For details visit: wickhambeerfestival.co.uk

Photo: The Lions' BBQ under full steam!