August 2017
The Lions Centennial Swanmore fete was a great success - Thank you!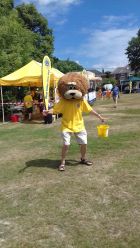 A combination of some great weather, plus the usual fantastic support from local people, meant that the 2017 Lions' Centennial Swanmore fete was a great success! Thanks especially go to our sponsors David Wilson Homes (BBQ), Harris Bathrooms (tea tent) and Swanmore Parish Council for helping to offset the cost and risk of staging the event again this year. More importantly, it allows us to channel more of the proceeds we raise into charitable causes.
We have just reconciled our fete accounts, it looks like we will clear well in excess of £6,000 for our charity account as a result of all the day's activities, which is our best-ever result for the fete. We've had some very positive feedback already and would like to extend our appreciation to the dozens of volunteers who became Lions for a day, to help us out. Check out the full story and lovely pictures on our website fete page and put the date in your diary for next year – Saturday, July 14th 2018.

New Club Officers

At the end of June each year, Lions rotate the officers charged with running their club and mark the new year with a celebration event called changeover. This year, Dick Cowles proudly assumed the President's Jacket at an evening soirée at Corhampton Golf Club and officially took office at our July business meeting. He moved to Wickham in 2012 after working abroad for many years, and joined the Meon Valley Lions Club as a way of integrating with his new community. Dick had previously been involved with charities in the New Milton area and spent many years working for Exxon in the oil and gas industry, in a career which took him all over the world. These days his travels bring him closer to home along the ports and harbours of the south coast, as he enjoys his passion for sailing.