February 2017
Floundering in the rain!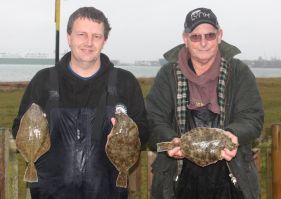 Another January and another cold, wet dousing for the Meon Valley Lions at the 42nd Charity Ford Open Fishing Festival, on Weston Shore. This event is one that Lions have supported every year without fail since 1996, so a bit of cold and damp wasn't really going to put us off.

Back in the day, over two hundred fishermen took part in this fishing event, spreading from their pitches on Weston Shore in the west, right round to the Hamble in the east. Numbers have dropped since its heyday and the closure of the Ford transit plant, but we still had almost 100 plucky sea-anglers turn up for the competition, on the last weekend of January.

If the Lions weren't too keen on the wet weather conditions, the fishermen certainly were and over a dozen fish were landed during the course of the morning. Tony Sherwood won the prize for largest fish with a 1lb. 4 oz. flounder and Mike Taylor was overall winner for the largest catch of the day, totalling 2lb. 2oz. The net result (no pun intended) was that the event raised £959 for charity, a sum the Lions will round up to £1,000 for donation to the Winchester based hospice, Naomi House and Jacksplace. This brings the total collected for this charity over the years to in excess of £40,000, which I think you'll agree is a grand effort.

Photograph: Fishing festival winners, Mike Taylor (left) and Tony Sherwood (right)

Swanmore Lions Centennial Fete

2017 marks the centenary of the formation of Lions Clubs International by Melvin Jones, of Chicago, who had the vision to pull together like-minded businessmen to create a force for good in their local communities. His personal code – "You can't get very far until you start doing something for somebody else!" – became a guiding principle for Lions globally. Now, the world-wide organisation has over 39,000 clubs with 1,200,000 members in over 165 countries and geographical areas – and Meon Valley Lions Club is very much part of that family. This year, Lions clubs everywhere are celebrating this special anniversary with various events and activities and our club has decided to hold a party at the Swanmore fete to mark the occasion. So, as a one-off, we've renamed the day "Swanmore Lions Centennial Fete" and are planning an extra special programme of fun and games for everyone. This year the fete is on Saturday 8th July, so put the date in your diary NOW and we'll be publishing more details of the programme on our special web page and Facebook event page.

New member - John Hanley

Finally, we would like to welcome John Hanley as a new member to our club. Having moved to Soberton from Botley with his wife Sue, John decided he wanted to become involved with a local, community organisation. So, after surfing around our website, he decided to come along to one of our social events and discover more. He obviously like what he found, because he joined up and has already taken on the roles of website manager and stall coordinator at the Swanmore Lion Centennial Fete. If you're curious, why don't you come along and meet us sometime soon? Drop us a line via our website contact page and John will surely respond!

Photo: At the rear, from left to right: Chris LeVoi (John's sponsor), Lion President Ian Adams, and John Hanley. Foreground: Lamar Wilkinson, another new member.