February 2019
There's a plaice for us…
A chilly start faced the hardy Lions on Weston Shore on January 20th, as they laid out their stall for the 44th annual Ford Charity Fishing Festival. Well before the official 7am registration time, over 80 stalwart fishermen had joined the queue to pay their entrance fees and draw their competition stations, spreading from Rolling Mill to Beach Lane, Netley.

Fishing festival winners (left to right) Andrew Brown (MVLC), Paul Barclay, Dave Lane, Chi Cheung, Peter Oates (event organiser)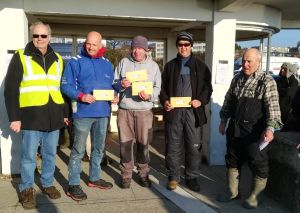 The Lions have provided support for this fishing festival since the 1990's. The festival is organised by Peter Oates and historically had been part of the calendar of the sea-angling section of the Ford sports and social club. Despite the closure of the Transit van factory, the event continues to attract great support with south-coast fishermen. This year the proceeds of this long-standing fund-raiser will be going to Rose Road Association in Southampton. This amazing place provides vital services for over 300 children and young people with severe physical disabilities, learning difficulties and/or autism, from across Hampshire. They offer overnight short breaks, a community outreach service, after-school and holiday activity schemes, Saturday clubs and advice and support to families. All this costs money which comes entirely from donations, so it's great to be able to financially support their efforts.
Despite flat-calm conditions, competition was keen and produced some good catches. The first-place prize of £400 went to Dave Lane with a 1.9 lb. flounder. Dave also won the pool for the heaviest fish (£122) and heaviest bag in the red zone (£61) – not a bad return for a morning's fishing! Second place and a prize of £200 went to Paul Barclay with a catch of 1lb. 1.5 oz. Pool winner (£61), with the heaviest bag in white zone was Chi Cheung with a 6.5 oz. catch. See you all again next year!
New members
Meon Valley Lions is delighted to welcome three new members to our club, following an induction ceremony at our January business meeting.
Picture: MVLC's new members with their sponsors (L to R) Dick Cowles, Mike and Polly Edwards, President Sheila Campbell, Allison Gurry and Hilary White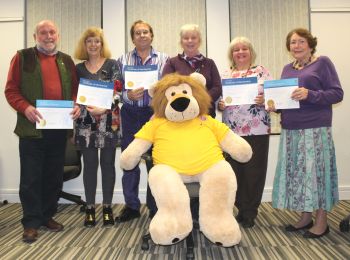 Allison Gurry moved recently from Lightwater to Swanmore to be closer to her son and his family. She is now retired but worked previously as a company secretary and as a practice manager at a doctors' surgery. Outside work, Allison has always been involved with community activities including the church and W.I. and is looking forward to dedicating her time to similar causes in Swanmore. She describes herself as a do-er and an organiser, so will fit in perfectly with this Lions Club!

Mike and Polly Edwards are husband and wife and have lived in this part of Hampshire for many years. Polly has experience of working with physically and mentally disabled children and adults in a residential setting and worked as a DSA assessor for nine years. More recently, she was the Disability Officer at both the University of Southampton and University of Portsmouth. Husband Mike enjoyed a career as an Air Traffic Controller, before moving from Operations to the Investigations Office at Swanwick and becoming Head of that function, before his retirement. Outside work, he has been active as a volunteer with the Rotary Club and as a director of a Charity. Allison, Polly and Mike all bring with them new and diverse knowledge and skills that will help the club deliver its service to the communities of the Meon Valley. Welcome all!