January 2018
Lots of loose change and bits an' bobs…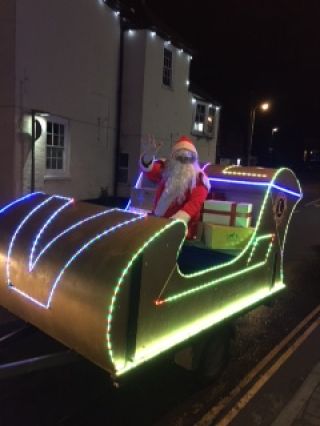 December was a full-on month for the Meon Valley Lions. Most evenings and Saturdays saw us out and about fundraising with Father Christmas, from East and West Meon in the north, down to Knowle in the south. It was great that Santa got to see so many excited children and thanks to your wonderful support this year, our Christmas collections have raised £4,700.14 for our charity account. We'd like to thank everyone who donated so generously again in 2017 – you can be sure we will be working hard in 2018 to ensure it is spent wisely on local groups and individuals in need.
Each year, what turns up in our collections buckets becomes that little bit more intriguing and bizarre. In amongst the notes and coins, we also amassed an astounding assortment of foreign currency and random items, including €12.73; US $1.16; Canadian $0.05; Rupee - 1; Colones (Costa Rica) 25; something unidentifiable from the Middle East - 10; Gettone-Telefonico token - 1; UK ½p (obsolete) - 1; buttons - 2; Washers -1; Philips cross-head screwdriver bit - 1. The usable foreign currency was auctioned amongst the Lions for £15.20 and Lion Roger Morfill is now figuring out how to organise a holiday that takes in Europe, USA, Canada and Costa Rica via India, so he can spend the cash.
The Lions were also actively distributing support and charity to those in need at Christmas, with regular ongoing donations to the Bishop's Waltham Foodbank and Christmas Hampers for local families – ten via Home Start and seven for Wickham Children's Centre. Home-Start is a fantastic voluntary group we have worked with for many years. Based in Wickham Community Centre, the charity provides local support services for families whose members are, for whatever reason, going through tough times financially or emotionally.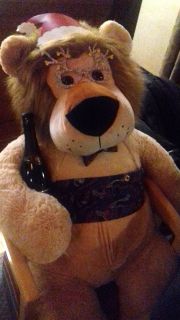 The Lions rounded off the festive season with a Christmas party at Corhampton Golf Club where Lions and their partners were able to let their hair down and celebrate another fine year of fun and fundraising. Our Club undertakes all its community work as a registered charity, but in the last few months, in line with a policy affecting all Lions Clubs in the UK, we have been in discussions with the Charities Commission to change our charitable status. Our leadership team has endured a busy year managing negotiations with the Charity Commission to become a CIO (Charitable Incorporated Organisation). This is a small technical adjustment that better reflects our organisation's activities, but which has taken many hours of work to achieve. Our thanks go to Roy Cuthbertson and the Club's Trustees for overseeing this challenging process.
At the back-end of January, the Lions embark on one of our more challenging activities in the fund-raising calendar, when we descend on Weston Shore, near Netley, for the annual Ford Charity Fishing Festival. The weather can be interesting at this time of year, ranging from sub-zero temperatures to horizontal rain off the Solent! The fishing competition is now in its 43rd year and it has become a tradition that the monies raised from the event are donated to The Naomi House and Jack's Place children's hospice charity in Winchester. The event usually attracts around 130 eager sea-anglers and we hope to raise over £1,000 from the competition entry fees. We'll update you on the weather conditions and the bank balance in our next bulletin.
Photos:
(top) Santa at Bishop's Waltham Christmas Fayre

(bottom) Lion Lamar Wilkinson enjoying his bottle of fizz at the Lions' Christmas dinner!