June 2016
It's in the bag for diabetes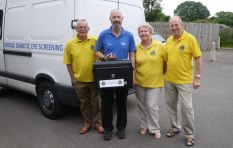 The Lions' charitable fund-raising activities have gone into overdrive as summer approaches. We've attended three village fetes already this summer at Droxford, Colden Common and East Meon featuring our "Play your cards right" game, which has raised £101, £51 and £80 respectively for our charity account.

Going out of our account in the other direction is cash that has helped fund the Lions' annual Paulton's Park event. Each year the Lions Clubs in our District (which covers most of the south coast area) provide a Paulton's Park "Day out with the Lions" for those less fortunate, disabled and vulnerable young members of our community, who would really enjoy a day of fun at Paulton's Park. The Meon Valley Lions Club funded 88 places for Meon Valley folk, of a total 3,000 tickets paid for by Lions' clubs in the south of England, at a total cost of over £30,000.
One of the Meon Valley Lions members brought to the club's attention the fantastic work being done by the Southampton Diabetic Eye Screening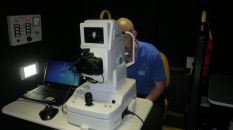 Service in providing a mobile service all over southern Hampshire. Their mixed diabetic eye screening programme, has five mobile clinics, providing regular appointments at numerous rural locations across our extensive patch. We got talking to them about Lions' Eye Health Programme and ways that we could help support their efforts. It was agreed to donate a set of special kit bags to the screening teams – items they desperately need to carry their equipment and materials safely and securely.
Recently, a small group of Lions caught up with Antony Wilkinson, a Diabetic Retinal Screener, at Wickham, to see just how the bags were being used and understand the screening process. Patients have their eyes screened annually to identify changes as they happen, alerting the medical authorities to possible risks of a condition escalating. This gives patients the best possible chance to address the situation and make appropriate decisions to protect their vision, with the support of the diabetic healthcare team.
Top photograph: (L to R) Lion President Roger Morfill, Antony Wilkinson, Southampton Diabetic Eye Screening Service, Lions Sue and Ed Barringer.
Bottom photograph: Andrew Wilkinson operates the diabetic retinal screening equipment

Swanmore fete

As well as attending fetes this summer, we're organising one too. It's our twelfth year organising the Swanmore fete and this year we're back bigger and better than ever. You can expect lots of fun and excitement! Gates open at 12.30pm on Saturday 9th July. There'll be live music from Contraband, Soberton Strummers and Swanmore College of Technology Jazz Band, as well as contemporary dancing and a join-in, keep-fit session.
This year, for the first time, we will also be welcoming the CHaOS Science Roadshow to the New Road recreation ground. CHaOS stands for "Cambridge Hands-On Science", a voluntary student group based in Cambridge who believe that science is fun, and relevant to everyone! In their marquee the enthusiastic student demonstrators will be conducting around fifty hands-on science experiments that will be a must-see for the kids and grown-ups!

Once again we'll have the classic cars and bikes on display, plus, we've over 40 stalls, coconut shy, beat-the-goalie, games and rides and oodles of yummy things to eat and drink. The motorbikes congregate at the Rising Sun pub mid-morning before their Meon Valley rally run to Alresford and back. Full details are on the Swanmore fete page our website.