June 2017
Recognition for Ron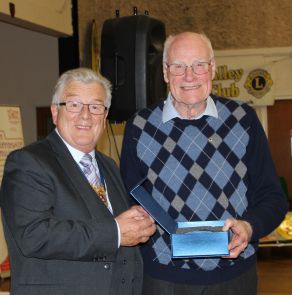 Lions clubs exist to serve their local communities, so it's great when we receive recognition and thanks from those communities, for the work we do. Recently, we supported Wickham Parish Council by attending their annual Parish Assembly and were delighted when during the Community Awards, Lion Ron Wilson, was called forward to accept a "Lifetime achievement award for service to the community".

Ron is a long-standing servant to the Wickham area community, through his work with Meon Valley Lions Club. He joined the Lions in 1982 and at the age of 86 is now our longest-serving, active member. He has recently been awarded the Melvin Jones Fellowship (the highest form of recognition for Lions members) and has always played a central and active role in all aspects of our operation. Currently our Almoner and responsible for Lion members' welfare, he has previously held office as Club Treasurer, as well as leading on our Youth programme, acting as the interface for our work with local schools, youth clubs and groups like Scouts and Guides. Ron also runs the "SpekTrek" programme for the Lions in the Meon Valley area, collecting unwanted, used spectacles from local optometrists and feeding them into the Lions' national SpekTrek network scheme, which grades, repairs and reprocesses the glasses for distribution in developing countries. Each year Meon Valley Lions donates over 500 pairs of specs through Ron's personal efforts.

Ron also liaises with local doctors' surgeries to ensure they have adequate supplies of Lions' "Message in a Bottle". These devices are used by individuals with specific medical conditions or drugs regimes, to warn medical service personnel of their condition, in the event of them arriving at their home in an emergency.

Councillor Angela Clear read Ron's nomination prior to him receiving his award from The Right Worshipful the Mayor of Winchester, Councillor David McLean, to loud applause from his colleagues and Wickham residents alike.

Photograph: Ron Wilson (right) receives his Lifetime Achievement award from The Right Worshipful the Mayor of Winchester, Councillor David McLean

Celebrate 100 years of Lions
This year, the Lions movement reaches its centennial and all over the world, clubs are celebrating with a variety of local activities and events. We'd like to invite you to join the Meon Valley Lions Club at our own very special event on Saturday 8th July – the Lions' Centennial Swanmore fete. There'll be a fun-packed afternoon including music, dancing, food and drink and fun and frolics, starting at 12.30pm on the New Road recreation ground.
There will be a drone-flying demonstration where visitors will be able through the special virtual-reality headsets, to experience a bird's-eye view of the proceedings. There'll be musical sets from, the Swanmore College of Technology Jazz Band and the evergreen, Soberton Strummers ukulele band. All the classic cars and bikes will be back to show off their chrome and the Lions own BBQ will be serving up some of the best burgers in Hampshire!

Full details can be found on the events page of our website, or via our social media channels. We look forward to seeing you there!