March 2016
Just the ticket for the Gateway club!
February was a short, but busy month for the Meon Valley Lions, working with people and communities right across our area.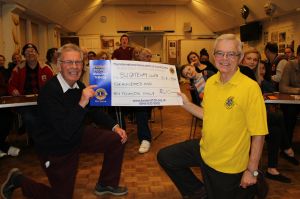 Lion President Roger Morfill attended Bishopís Waltham Gateway Club to learn more about this very special group, that meets on the first and third Monday of each month at St. Peter's church hall. The Gateway Club is a social club for people over 16, with learning disabilities and does a super job providing a full programme of fun activities for its members, including discos, games, group outings and Christmas dinners. The Lions were delighted to help with one of these events recently, by funding a pantomime trip for some 46 club members to see Dick Whittington at Ferneham Hall in Fareham. Roger was delighted to present a cheque for £610, covering the cost of the tickets, to Jan Chamberlain and Brian Loveday, who do such a great job running this club on a totally voluntary basis.

It was also a pleasure to scrub down and roll out the Lionsí barbeque equipment for its first outing this season and provide the hot food in support of the Mayor of Winchesterís charity race night at Wickham Community Centre. The Lions BBQ and the Bowmanís bar both enjoyed excellent trade early on and a packed hall of punters soon lost their inhibitions, opened their wallets and got down to losing some serious money in a good cause! The race night is just one of a number of events promoted by The Right Worshipful the Mayor of Winchester, Councillor Angela Clear and the evening is expected to have raised around £3,000 for the Mayorís nominated charities, which are the Countess Mountbatten Hospice, Rowans Hospice and Naomi House & Jacksplace.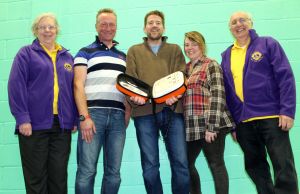 Finally, Lions Roy Cuthbertson and Sheila Campbell visited Knowle Community Hall to see how the Meon Valley Lions clubís £400 financial contribution had been put to good use, to purchase a defibrillator for this expanding village community. More and more towns and villages are investing in these very special pieces of kit, because they can make a live-saving difference to a victim suffering a cardiac arrest. The chance of surviving a heart attack decreases by 23% per minute and itís critical that medical treatment starts as soon as possible. The UK Resuscitation Council suggests an automated external defibrillator (AED) should be available wherever medical treatment is more than five minutes away. In practical terms, this means every community in the Meon Valley.
MVLC offered to help finance the defibrillator installation following an approach from centre manager Sam Marston, whose husband Adam is Chair of the Knowle Community Hall and Sports Association. Chris and Debbie Hull of Readimedigo who are both Community Responders, have been training locals in the correct use of the Knowle AED, to ensure it can be put to effective use in an emergency. The unit has been positioned on the external wall of the Community Hall next to the sports facilities and is linked to the Ambulance Service database. If we can help fund a similar AED installation in your community, please contact us.

Photographs:
TOP - Brian Loveday, Chairman, Bishops Waltham Gateway Club, (left) receives a cheque for £610 from Lion President Roger Morfill.

BOTTOM - Lion Sheila Campbell, Chris Hull (Readimedigo), Adam Marston (Chair of the Knowle Community Hall and Sports Association) Debbie Hull (Readimedigo) and Lion Roy Cuthbertson