May 2019
Birthday bus
For many years, the Meon Valley Lions Club has operated a minibus service across the communities in our area. You'll see our blue and yellow minibus being driven through the villages by Lions and other volunteers on most days, providing a free travel service for clubs, societies and individuals who otherwise might not be able to get out and about. We're grateful to the Southern Co-operative (Wickham) who largely funded the current bus through a donation in 2012, as part of their Community Support Card scheme.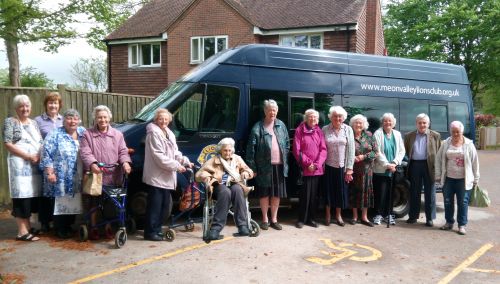 One of the organisations we help regularly is the Wickham Wednesday Lunch Club. The club's oldest member, Deirdre, celebrated her 100th birthday recently, but following a fall, had stopped coming to Lunch Club because she had not regained sufficient strength and confidence. However, a call from regular driver, Lion John Sharpe to Deirdre's daughter, confirmed that she would like to try one more trip to the Lunch Club. Apparently, it was the ride in the bus she had missed as much as the lunch!

By coincidence, Deirdre's 100th birthday was on a Wednesday, so arrangements were made to collect and take her to meet her regular Lunch Club friends at the local hall. Although helping Deirdre on and off the bus required some strength and patience, she was delighted to have the opportunity to meet up with her old friends once more. At the hall, everyone sang happy birthday, toasted Deidre with a glass of sherry and enjoyed a lovely slice of birthday cake at the end of the meal. Eventually, Deirdre was tired and ready for home, but later, Deidre's daughter Sarah rang to say just how much Deirdre had appreciated the trouble we'd taken and that she had thoroughly enjoyed herself. Well done Lion John Sharpe for making Deirdre's day!
Five stars!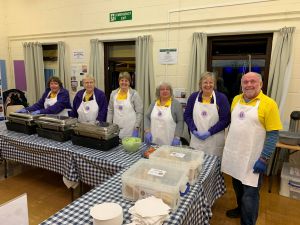 Our regular BBQ gig at the Wickham Charity Beer Festival proved a little more eventful than we expected, when a Food Standards Agency inspector arrived to carry out a food hygiene check. We've been proud to display our five-star FSA rating for some years, but policies and practices must be regularly checked for organisations to retain the classification. Inspections of this nature are all part of the enforcement process. After an intense on-site review lasting what seemed like an eternity, we were pleased to hear that we had passed the inspection with a clean bill of health and retained our five stars. Our thanks go to Lion Roy Cuthbertson who has managed and led the catering programme for us for many years and who rightfully must take all the credit for the quality and reputation of our food-service standards.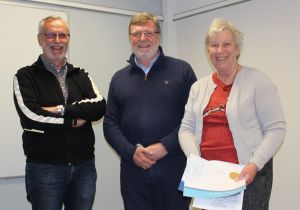 Finally, we welcome yet another new member to Meon Valley Lions Club in the shape of Brian Edwards. Brian and his wife Lynda have lived in the Fareham area since 1982, moving to Knowle in 2006. After over thirty years in the Royal Navy, during which time he received an MBE for his services, Brian took up a second career in the Telecoms industry with Cable & Wireless and latterly Vodafone, before recent retirement. We are hoping his organisational and communication skills can be put to good to good use in his new voluntary calling!

Pictured: Brian Edwards (centre) with sponsor Gary Martin (left) and President Sheila Campbell (right)