November 2018
Bringing charity into focus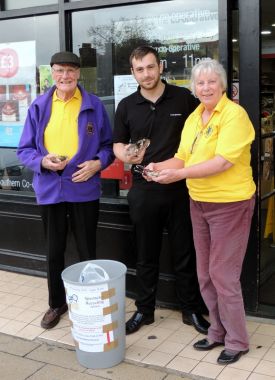 Since Helen Keller spoke at the 1925 International Convention, Lions Clubs have been carrying out Sight projects across the globe. To save the sight or to improve sight, is one of the greatest gifts that anyone can give a fellow human being. All those who have suffered from cataracts will know the relief that comes after a successful operation!
Meon Valley Lions Club has supported the Sight initiative for a number of years through the SpekTrek programme coordinated by Petersfield Lions and supported by other clubs in our District. The programme in essence is very simple – we collect old and unwanted spectacles from people who no longer need them in the UK and "recycle" them to parts of the world where people have a need and the cost of a new pair of spectacles is exorbitant by local standards. Behind the simple idea though is a massive logistical exercise and hours of hard work.

Our own Lion, Ron Wilson has coordinated our Club's collections for a number of years and this year, he was able to gain the support of the Wickham branch of the Southern Cooperative to help create a bumper pile of old glasses for the programme! In a week coinciding with World Sight Day on Thursday 11th October, the shop offered us space in their entrance area for a collection bin into which the residents of Wickham happily deposited piles of old specs! In total, this collection amassed over 300 pairs, which in conjunction with collections from local schools and optometrists brought the total to 461.

Photograph: Bruce Weatherill the Duty Manager of the Southern Coop, Wickham handing over the specs to Lion President Sheila Campbell and Lion Ron Wilson.

All the spectacles collected in our annual Spectrek programme go to Chichester for initial sorting. Children's glasses are separated out for reuse as are uncut lenses. Some cannot be used again but this does not mean that they are not valuable as precious metals contained in some frames and those containing gold or titanium are sorted out for selling – as indeed are Designer frames.

The sorted spectacles are then sent to Medico France in Le Havre where they are further graded before being sent to third world countries. In the last few years, Lions have donated over 2.5 million spectacles in this way. Imagine what the cost of new spectacles would be at over £100 a pair! Thanks for supporting us Wickham Co-op and thanks to all those locals who dropped off their old specs! We'll be repeating the programme in October 2019!

Keep your eyes out for Santa!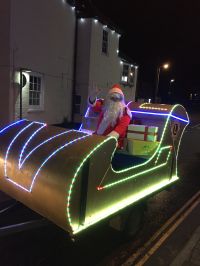 Can it be that it's nearly Christmas already? Yes – and the Lions are well into planning the annual tour of the Meon Valley villages with Santa and his Sleigh. It has already been brought out of storage and given a wash and brush up for this year's fun!
Santa and the Lions will be out and about throughout the month of December, with visits to all the villages from East and West Meon at the top of the valley, to Wickham, Boarhunt and Knowle at the bottom. He'll also be on duty on the Saturday mornings running up to Christmas at Wickham Square, Bishops Waltham High Street and Swanmore Village Store.

The full Santa sleigh schedule has now been published on the special Santa page on this website. We raised over £4,700 last year – let's see if with your help, we can surpass that this time!