October 2015
Cheers to fund-raising!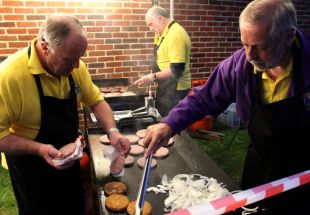 A few weeks after the highly successful Wickham Food Festival we were back at the southern end of our patch for seconds! This time Meon Valley Lions Club was pleased to be back supporting the Wickham Charity Beer Festival with the catering requirements. This increasingly popular beer festival now regularly attracts over five hundred real ale punters to the events which are held twice each year in the spring and autumn. The October beer festival was the 15th that organisers Dave, Mike and Ashley have put on and presented the punters with a fantastic array of over forty draft ales and ciders from which to choose. The festival is a wonderful community event, but also raises significant amounts of money for local causes and charities in the process. This year the beneficiaries included the Wickham Centre, Rowans Hospice, the Countess Mountbatten Hospice Charity and Winchester based Naomi House/Jacksplace.
This year's event inevitably coincided with the Rugby World Cup matches, but this did not seem to affect the turnout too badly, possibly on account of the host's early exit. Just in case, for those who were still interested, a special big-screen room was set at the Community Centre to show the Australia v Wales and England v Uruguay matches. Meanwhile downstairs, local Hampshire band "The Kazbaas" entertained everyone with some foot-stomping Ska music.

The two Lions' barbeques were busy all evening and thanks to everyone who spent generously and once again offered compliments on the quality of the ingredients and the standard of cooking. The BBQ sales raised just under £700 for our charity fund, which is close to last year's total and about £150 short of our all-time festival record. Our thanks must go to our regular, local suppliers and sponsors at Westland's Farm Shop, McCarthy's Superstall and Tesco's Fareham for providing such great quality ingredients.

In the last year we reckoned we've served around over 7cwt (355kg) of sausages and burgers, helping us raise a pile of cash. Barbeques now contribute about a third of the money we raise locally and help us provide much needed charitable support for individuals and groups the length and breadth of the Meon Valley. A simple analysis of how we spend this money is summarised here:
International disasters £1000 (6%);

National causes £1,250 (7%);

Local charities £4,350, (24%) - Naomi House, Rose Road Association, Rowans;

Local individuals, clubs and groups £6,150, (34%);

Local youth, £1,750 (10%) - Scouts, Guides, Youth Clubs;

Minibus service, £3,500 (19%) - Swanmore Friday Club, Carers together, Wickham lunch club;
Last year that amounted to around £18,000 of charitable support and donations, 87% of which was spent locally. If you know of individuals or groups in your area who you think could benefit from our help, please contact us via the contact us page or call 0845 833 7812