October 2020 Newsletter
Making a big difference .. what its all about!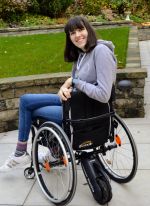 Meon Valley Lions secured funding of £4,395 from a generous benefactor to buy a Smartdrive 'Power wheel add on' to power up the wheelchair of a young lady in Bishops Waltham, this is life changing.
The Club received a letter of thanks from her mother saying "She can't stop bouncing in her chair and grinning from ear to ear every time it is mentioned! It really will make a huge difference to her quality of life and it is so wonderful to see her so enthused after such a difficult year. Father Christmas literally delivered early this year!"
More help for the little people

Meon Valley Lions Club is proud to support and sponsor the new Meon Valley Baby Bank based in Bishops Waltham. They have set up to help all families in the community who are in need of baby and children's items up to 4 years of age. You do not need an appointment or referral to go to the Baby Bank, they welcome everyone. They also work with child and family care agencies, such as Home Start and local Health Visitors, to gift items by request to families facing financial and emotional stress.
The Baby Bank in now open on the first Thursday of every month. They are also raising money for new storage.
Santa and his Elves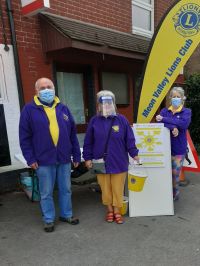 Sadly, Santa and his elves are unable to help this year, but we will be out on the streets taking donations. So, if would like to help us help our local community, please keep an eye open for us. Or if you, or someone you know, needs help please get in touch.
TELEPHONE: 07443 753780
To donate:
OUR WEBSITE: /donate.html
TEXT DONATION: Simply text LIONS to 70490 to donate £3
OR if you would like to donate between £1 and £20 text LIONS followed by your donation amount e.g. to donate £5 text LIONS 5 or to donate £10 text LIONS 10.
Texts cost your chosen donation amount plus one standard network rate message.
Send a cheque: made payable to Meon Valley Lions Club (CIO) to the address below
STREET DONATIONS: We will be out and about between 9am and 1pm:
Wickham - Friday 4th December – outside Westlands Farm Shop
- Friday 11th December – outside McCarthy's Fruit and Vegetables
- Saturday 12th December – In the Square
Swanmore - Saturday 5th December – outside Central Convenience Stores
Bishops Waltham - Friday 18th December – TBC
- Saturday 19th December – on the High Street
Denmead - Sadly we can't get to Denmead this year due to Covid19 restrictions
PLEASE HELP US SUPPORT OUR LOCAL COMMUNITY
As always thank you for your support
Dates for your diary
Swanmore Fete 2021 - We'll keep you updated on our website but in the meantime please add next year's date to your diary: Saturday 10th July 2021.
Annual Ford Charity Fishing Festival 2021 – We're sorry to report this has been cancelled for 2021.