September 2016
Food for thought!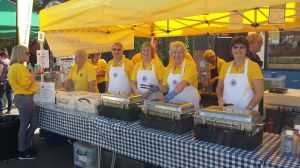 Meon Valley Lions were out in force for this year's Taste of Wickham Food Festival. Now in its third year, this grand, comestible celebration benefited from an outbreak of glorious, late-summer weather, attracting a record crowd of around 6,500 people to Wickham Square. There was something of interest for everyone. As well as cookery demonstrations and workshops with top chefs, the festival provided a showcase for many excellent local suppliers of food and drink, offering everything from goat meat to real ale.

The Lions BBQ once again teamed up with Tull's the local Wickham butcher, setting up stall right outside the shop. Being adjacent to the butcher's cold store proved a blessing, because over the space of about five hours we served hundreds of portions of sausages and burgers. At one point we had four chefs working two full-sized gas barbeques and could still barely keep pace with demand. Averaged over the day, we were cooking and selling more than two servings per minute, which is quite astonishing. The good news is that thanks to Tull's support and the patronage of the hundreds of hungry customers, our charity account is going to benefit to the tune of over £1,400, so thank you everyone!

Photograph: The Lions BBQ before the onslaught!

We also donated the services of the Meon Valley Lions' minibus for the day, providing a shuttle bus service between the offsite car park and the square. So thanks go to all the Lions and other volunteer drivers for giving up their time and working some long and arduous shifts throughout the day.

A word of praise must also go to the Taste of Wickham organising team for doing such a great job in pulling this fabulous event together. From a standing start, the festival has grown in three years to be a real feature on the Hampshire foodie-event calendar. Look out for the Lions' BBQ arriving back in Wickham next month for the Wickham Charity Beer Festival on Saturday 8th October.

In the swim!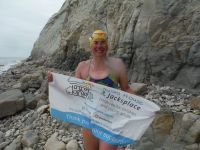 In September, we were pleased to donate a sum of money in support of Naomi House and Jack's Place, through sponsorship of Kate Steels-Fryatt's plucky, cross-channel swim. Kate, who lives in Bishops Waltham, has undertaken years of training in preparation for this challenge. She has participated in several foreign swimming endurance events, including one in the Arctic Circle, on top of regular seven-hour weekend practice swims in pools and rivers, plus a complete circuit of Hayling Island and a ten-hour swim up the Solent.
All this hard work paid off on Tuesday 6th September, when Kate undertook the swim, starting at 2am and completing the crossing in 13 hours and 5 minutes! The conditions were "lumpy" and Kate had to endure the diverse dangers of jellyfish and cross-channel ferries along the way. She has however raised around £1,800 for Naomi House through her sponsorship and is now only £200 short of her £2,000 fund-raising target. If you would like to help her achieve that, visit the Virgin Money Giving website HERE.

Photograph: Kate Steels-Fryatt following her successful channel swim