TOTAL money raised in December 2016, by our Santa collections:
£ £4,175.85
A great "Thank you!" to everyone who donated.
If you missed us, Donate here


Every December we help Santa in the Meon Valley area.
See the 2017 schedule below!
We take him around the villages to call on some of the local children in the run-up to Christmas.
We have built him a fine sleigh that we can tow behind our minibus, and we accompany him so he doesn't get lost...
Along the way, we collect charity donations while he hands out his lollies to the children. This year we raised £4175.85 including one evening in Swanmore when we collected a staggering £480. Thanks to all the volunteers who helped us on those cold, damp evenings, including Scouts and Guides on a couple of nights. Of course, the biggest thanks go to YOU the generous members of the public, for digging deep and boosting our funds.

This is our biggest annual fundraising activity and an essential part of our programme that enables us to provide charitable support throughout the Meon Valley. Thank you!

At the bottom of this page is the 2017 programme but it can be subject to change depending on weather and availability of elves.... so keep an eye out for details on our Twitter feed and Facebook pages for last-minute changes to plan.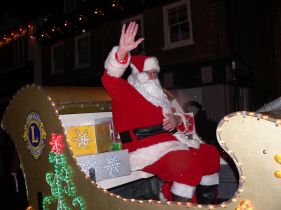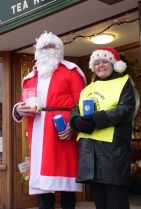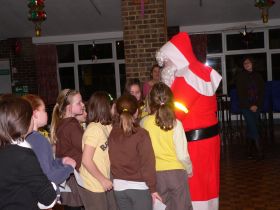 Santa in his sleigh/Santa in Wickham/Santa with the Brownies
The 2017 Santa programme:
1-Dec
Fri
18:15
Droxford
2-Dec
Sat
0900-1300
Denmead


17:00-18:30
West Meon Fair - Sleigh Only
5-Dec
Tue
17:30
Waltham Chase South
6-Dec
Wed
17:30
Knowle Youth Club
7-Dec
Thu
17:45
B/W Fayre
8-Dec
Fri
18:15
Waltham Chase North
9-Dec
Sat
0900-1100
Swanmore Village Store


16:00-20:00
Beavers Sleepover Santa party
11-Dec
Mon
18;15
Wickham
12-Dec
Tue
17:30
Hambledon
13-Dec
Wed
17:30
Exton, Meonstoke
14-Dec
Thu
18:15
Waltham Chase
15-Dec
Fri
17:30
Corhampton, Meonstoke, Soberton
16-Dec
Sat
0900-1300
Wickham Square

18-Dec
Mon
18:15
Shirrell Heath and Shedfield
19-Dec
Tue
17:30
Soberton Heath, Soberton
20-Dec
Wed
17:30
Swanmore West
21-Dec
Thu
18:15
Swanmore East
22-Dec
Fri
18:15
Swanmore catch up
23-Dec
Sat
0900-1300
Bishops Waltham main street