Mission Statement & our Charitable Objects
To empower volunteers to serve their communities, meet humanitarian needs, encourage peace and promote international understanding through Lions clubs.
Lions Clubs International is the world's largest service club organisation with 1.4 million members in approximately 45,000 clubs in 205 countries.

Lions are men and women who volunteer their time for humanitarian causes. Founded in 1917 by Melvin Jones, our motto is "We Serve".


Our President for 2022 - 2023 is John Hanley.


John has been involved with the Lions for 5 years. He is married to Sue and they have lived in the Meon Valley for over 30 years with their 2 grown up sons.
Meon Valley Lions - Some of our members at work and play...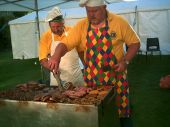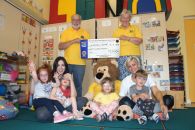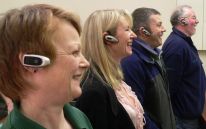 Pete burning bangers - Cash for The Rainbow Centre Hands-free kit for Community Responders
Almost every penny you donate via Lions Clubs goes direct to help those in need. We do not take any administration fees from your donation.
.
.
Charitable objects
3.1 THE OBJECTS OF THE CLUB ARE SUCH PURPOSES AS ARE EXCLUSIVELY CHARITABLE IN ENGLAND & WALES, INCLUDING IN PARTICULAR:
3.1.1 THE ADVANCEMENT OF CITIZENSHIP BY:
3.1.1.1 PROMOTING THE PRINCIPLES OF GOOD CITIZENSHIP;
3.1.1.2 ENCOURAGING MEMBERS TO TAKE AN ACTIVE INTEREST IN THE CIVIC, CULTURAL, SOCIAL AND MORAL WELFARE OF THE COMMUNITY;
3.1.1.3 PROVIDING A FORUM FOR THE OPEN DISCUSSION OF ALL MATTERS OF PUBLIC INTEREST; PROVIDED THAT PARTISAN POLITICS AND SECTARIAN RELIGION SHALL NOT BE DEBATED BY MEMBERS;
3.1.1.4 ENCOURAGING SERVICE-MINDED PEOPLE TO SERVE THEIR COMMUNITY WITHOUT PERSONAL REWARD AND ENCOURAGING THE PROMOTION OF HIGH ETHICAL STANDARDS IN COMMERCE, INDUSTRY, PROFESSIONS, PUBLIC WORKS AND PRIVATE ENDEAVOURS;
3.1.1.5 SUPPORTING YOUTH TO DEVELOP THEIR SKILLS, CAPACITIES AND CAPABILITIES TO ENABLE THEM TO PARTICIPATE IN SOCIETY AS MATURE AND RESPONSIBLE INDIVIDUALS;
3.1.2 PROMOTING THE VOLUNTARY SECTOR FOR THE PUBLIC BENEFIT BY ASSOCIATING WITH LOCAL AUTHORITIES IN A COMMON EFFORT TO ADVANCE EDUCATION AND PROVIDE FACILITIES IN THE INTERESTS OF SOCIAL WELFARE FOR RECREATION OR OTHER LEISURE TIME OCCUPATION TO IMPROVE THE CONDITIONS OF LIFE OF PEOPLE IN LOCAL, NATIONAL AND INTERNATIONAL COMMUNITIES;
3.1.3 PROMOTING VOLUNTEERING;
3.1.4 THE RELIEF OF POVERTY AND THE RELIEF OF THOSE IN NEED IN PARTICULAR BY PROVIDING HUMANITARIAN AID AND DISASTER RELIEF;
3.1.5 THE ADVANCEMENT OF HEALTH OR THE SAVING OF LIVES BY PREVENTING AVOIDABLE BLINDNESS, ASSISTING DISABLED PEOPLE TO LEAD INDEPENDENT LIVES OR HELPING TO PREVENT OR MANAGE HEALTH ISSUES;
3.1.6 PROMOTING FOR THE BENEFIT OF THE PUBLIC THE CONSERVATION PROTECTION AND IMPROVEMENT OF THE PHYSICAL AND NATURAL ENVIRONMENT; AND/OR
3.1.7 PROMOTING COMMUNITY PARTICIPATION IN HEALTHY RECREATION.