Hundreds of children have met Santa in the Meon Valley and the amount raised this December by Santa's charity collection teams is:
£4,441.69
Updated Sunday 24th December. A great "Thank you!" to everyone who has donated.
If you missed us, it's not too late! Please donate online here:


Every December we help Santa in the Meon Valley area.
We take him around the villages to call on some of the local children in the run-up to Christmas.

We have built him a fine sleigh that we can tow behind our minibus, and we accompany him so he doesn't get lost...
Along the way, we collect charity donations while he hands out his lollies to the children. This year we raised £4,441.69 including one evening in Soberton Heath and Newtown when we collected a staggering £526.09 in Swanmore (west). Thanks to all the Friends-of-Lions volunteers who helped us on those cold, damp evenings. Of course, the biggest thanks go to YOU the generous members of the public, for digging deep and boosting our funds.

This is our biggest annual fundraising activity and an essential part of our programme that enables us to provide charitable support throughout the Meon Valley. Thank you!

We'll be doing it all again next year.... so keep an eye out on this page around November time for full details as well as on our Twitter feed and Facebook pages!
If you missed him in December, please fell free to donate using the DONATE button to the right of this page!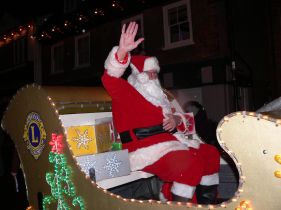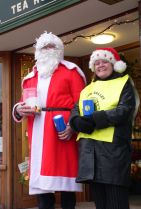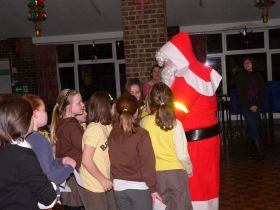 Santa in his sleigh/Santa in Wickham/Santa with the Brownies/Bishop's Waltham Christmas Fayre.