August 2021
BBQ in the Park is happening!!
We're all really looking forward to seeing everyone on Saturday 11th September from 11am.
There'll be our usual burgers and sausages, we've asked one of the local pubs to run a bar and we'll play you some music. We've dusted off our children's games and hoping the weather is kind. Entry is free so come along and join in the fun.
Back together again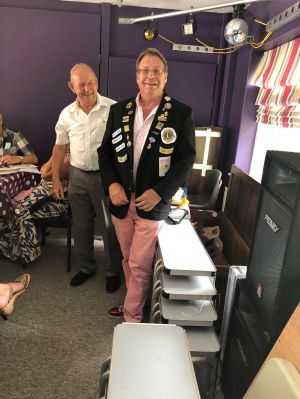 The Club met to say a huge thankyou to Eddy Barringer for keeping the Club running during really difficult times and welcome Mike Edwards to his role of Club President for the forthcoming year.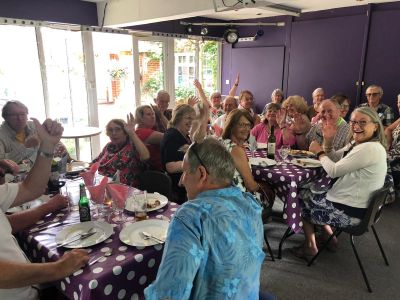 A vital leg-up from the Lions
A couple of recent referrals to the club show the importance of the Lions Club giving families the one-off help we typically provide. Our help for families is never on-going but when someone hits a problem, we may be able to help. The first request was an elderly lady with just a cool box to keep food fresh, so a fridge freezer was desperately needed. The second a family in need of some bedding and help with a washing machine. After careful consideration and thanks to the support we get from the public, we were able to help both families and source the requested items - that vital leg-up.
Lions International Spectacle Recycling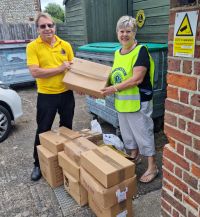 Lions Clubs throughout the UK collect unwanted and damaged spectacles. Meon Valley Lions Club delivered around 3000 pairs of spectacles to Chichester Lions Club for processing and onward distribution.
Chichester Lions Club processes tens of thousands of recycled spectacles each year. All donations are examined by a team of Lions and other volunteers in the recycling workshop. Sorted pairs of glasses may then be sent for grading and distribution by Medico France in Le Havre.
Glasses are also sent directly to contacts running eye clinics in Papua New Guinea, Sri Lanka, Ghana, Nigeria, and Nepal. In addition, volunteers from the 'Unite for Sight' charity are supplied with spectacles to take with them on missions to countries across the world.
For more information: Spectacles Recycling – Lions Clubs International MD105 British Isles
Mike Edwards MVLC and Sue Boucher Chichester Lions Club