Others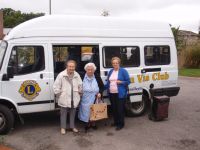 We have provided much more service and aid than can be shown on the website.
For example, we have done gardening for elderly residents, provided electric wheelchairs, arranged nursing help and caravan holidays for those in need.
We also have a minibus that we use to transport local elderly people around the area.
If you know of anyone who might benefit from our help, please contact us.
You can do this by clicking "Contact Us" above, completing the form that appears, and clicking "Send"
Also, if you can provide help, or would like to join us, please contact us as above.