April 2015
Meon Valley Lions recognised for community service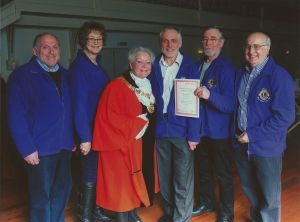 The Meon Valley Lions were privileged to attend this year's annual Mayor's Community Awards at the Guildhall, Winchester, to receive a presentation from The Right Worshipful the Mayor of Winchester, Councillor Eileen Berry.

The Mayoralty and Winchester Area Community Action (WACA) have promoted this awards programme for a number of years, to recognise organisations and individuals who have given outstanding voluntary service in the Winchester District.

The aim of the awards is to celebrate the selfless activity that goes on in every part of local society and makes the District a true community and great place to live. The Mayor believes it is important to recognise the many that give up their valuable personal time, to enrich people's lives by giving them access to services, helping local groups and offering companionship and supporting people in need.

The Meon Valley Lions Club is delighted to receive this award. President John Wooldridge commented, "We are the local branch of an international group dedicated to serving our local communities, so it's great to receive recognition for work that is core to our purpose and values."

This year we have raised around £17,000 through our barbeques, Christmas collections, fete stalls and other charity fund-raising activities. All the money raised goes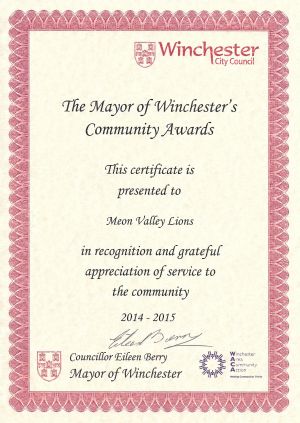 directly to the causes we choose to support, because all administrative costs are covered by club subscriptions. 80% of the money that is spent goes into local projects and causes in the Meon Valley.

In the last year we have led various initiatives encompassing health, well-being, poverty and youth programmes supporting organisations such as Naomi House, Home Start, St Peter's Youth Club Bishops Waltham, Rose Road Association, Rowans Hospice, Wickham Community Centre, Scouts and Guides and numerous other groups, charities and individuals.

In addition the club's free community minibus has provided a regular weekly transport service to organisations including Swanmore Friday club, Carers-together and Wickham lunch club, covering over 5,000 miles in the process and completing over 1,200 passenger journeys.

If you would like to get involved with our group and give up some of your time for what is a truly worthwhile cause, and have some fun along the way, please drop us a line via the contact us page.

Photograph: (L to R) Dick Cowles, Sue Wooldridge, Mayor Cllr. Eileen Berry, Ian Adams, President John Wooldridge, Roy Cuthbertson
Naomi House cheque presentation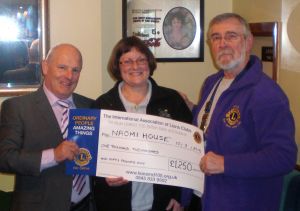 At the recent prize night of the Ford Sports and Social Club, Lion President was delighted to present a cheque for £1,250 to Naomi House, based on money raised at the Annual Charity Fishing Festival in January. The cash was raised through the competition entry fees, a raffle and some rounding-up from our own funds. Sarah Hudson, the local representative for Naomi House gratefully accepted the cheque which will help support the major refurbishment programme currently happening at the hospice.
Meon Valley Lions haven't been involved with the fishing festival from the outset, but since we started to support it in the 1990s the monies we have raised has grown to a running total of in excess of £40,000 and the beneficiary has always been Naomi House.
It's another great result and our thanks go to the Ford Sea Angling section of the Sports and Social club, the Transport and General Workers Union and all the fishermen for their support. Even though the Ford plant is now history, it looks like this ever-popular charity fishing festival will remain a fixture in the calendar.
Photograph: (L to R) Peter Oates, Ford Sea Angling Club; Sarah Hudson, Naomi House; John Wooldridge, President Meon Valley Lions Club.