April 2016
Fishing festival's "grand" presentation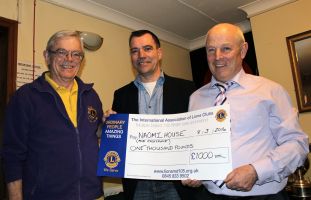 As we reported in our February news update, Meon Valley Lions Club's long-standing relationship with Weston Shore was renewed on Sunday 24 January, when we once again supported the 41st Annual Charity Sea Angling Competition. Despite the recent closure and demolition of the Ford Transit plant, the Sea Angling section of the Sports and Social club is still very active and keen to continue putting on this great fund-raising event. Organised by Peter Oates and supported by the Transport and General Workers Union, the event attracted 88 adults and seven juniors this year with prize money in excess of £500.
At the end of the day we raised £999.50 net of expenses, which we rounded up to a tidy £1,000 to be donated to Naomi House and Jack's Place, the Winchester based hospice charity. The cheque was presented to Kevin Kearslake representing the Naomi House charity on the evening the Sea Angling Club's annual prize-giving, by Lion President Roger Morfill and organiser Peter Oates. Over the years these annual donations have grown to a not inconsiderable total, now exceeding £40,000.

Photograph: Cheque presentation to Naomi House
L to R: Lion President Roger Morfill; Kevin Kearslake of Naomi House and Jacksplace; Peter Oates of the Ford Sea Angling club.
Spek Trek
April is the time of year when Lions Clubs across the south of England get behind the SpecTrek programme operated by our neighbours Petersfield Lions Club. The first Spectrek was in 1982 and each year the Clubs collect over 100,000 pairs of unwanted spectacles from all over the area. These are then passed on to other Lions Clubs for sorting, grading and onwards transport to the developing world. Over the years nearly 2.6 million pairs of specs have been collected in this way, bringing affordable eyesight correction to people in poorer countries who could not normally afford prescription lenses. Our thanks go to Lion Ron Wilson who manages our contribution and also to the people in the Meon Valley area who donated over 600 pairs of used glasses to this year's collection.
Lions' Swanmore fete
As we embrace this fine spring weather, thoughts turn to warm summer days and fun and games at the village fete. The Lions' Swanmore Fete is on Saturday 9 July this year and there will be plenty of musical entertainment again, with most of the main acts and programme already confirmed. We'll be publishing all the details on the fete page on our website in coming weeks. For the first time this year, we will be welcoming the CHaOS Science Roadshow to the New Road recreation ground. CHaOS is Cambridge Hands-On Science, a voluntary student group based in Cambridge who believe that science is fun, and relevant to everyone! In their marquee their enthusiastic student demonstrators will be conducting around fifty hands-on science experiments that will be a must-see for the kids and grown-ups!
There'll be a sumptuous food-court again this year plus drinks and refreshments. The stall bookings are already ahead of this time last year, so if you're thinking of taking a stall, please contact us soon to reserve your place. Please call Jon Tyrrell on 023 8026 9298 or email us at: swanmore.fete@gmail.com We also need general volunteers to help with the fete set up and all manner of activities during the day. If you are available, even for a couple of hours, we'd appreciate your time. Please call Ian Adams on 01329 835625 or contact us via the email address above.