April 2017
Lions – we're all about serving our community
The Lions movement is 100 years old this year and across the globe the organisation now has around 1.4 million members spread over 46,000 local clubs. This year, we're all marking our centennial with a variety of events and activities to celebrate the founding of the organisation by Melvin Jones in Chicago in 2017.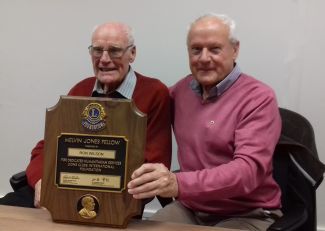 Our own Meon Valley Lions club is relatively new, having been formed in 1973, but we share the same global ethos of giving our time freely to serving our local communities and people in need. We've decided to make Swanmore fete (which we've been organising now for over ten years) the focus of our own centennial celebrations in 2017 and we'd like you to join in with the party. The date for your diary is Saturday 8th July and you can find details of all that's planned on the fete page of our website, as well as through our Twitter and Facebook feeds (use the icon links at the top of this page).

Volunteering for Lions requires personal commitment, whether that be attending fund-raising events, supporting people in need, or shaking buckets behind Santa's sleigh. Two of our longest-serving members, Ron Wilson and John Ormiston, have selflessly put in more than their fair share of effort over the years. The club was therefore pleased to recognise their contribution recently, through the award of Melvin Jones Fellowships.

Ron moved to Titchfield Lane, Wickham over thirty-five years ago to take up a head-teacher role at Hamble school. He joined the Lions in 1982 and at the age of 87 is now our longest-serving, active member. John Ormiston of Swanmore has had two periods with Lions, the first of which dates back to 1975 and a second when he rejoined in 1997. Both Ron and John have held a variety of senior roles within the club over the years and we would like to thanks them both for their hard work and friendship during that time.
Photo: (left) Lion Ron Wilson and (right) Lion John Ormiston with the Melvin Jones Fellowship plaque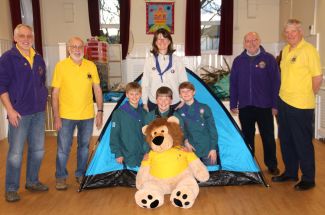 We've been busy this month both raising money in our local community and spending it. As part of our youth programme, we were pleased to support the 1st Swanmore Scouts in funding the purchase of three new tents, which they desperately needed – a hike tent, a pop-up tent and a general-purpose tent for summer camps. The Scouts had turned out to help with the Lions' Santa charity collections during the Christmas period, raising over £200 and we were pleased to recognise their support by procuring the tents. Lions John Sharpe, Dick Cowles, Roy Cuthbertson and President Ian Adams attended their weekly meeting to meet Leader Jo Fox and some of the Scouts, to check out the new equipment. The technology has certainly moved on from when we were boys and tents were made of heavy canvas, with wooden poles, wooden pegs and thick guy-lines made of rope.

Finally, it was a pleasure to turn out once again on a balmy spring evening in April, to provide the BBQ at the Wickham Charity Beer festival. Unsurprisingly, there are always a flood of Lions volunteers to work on this event and a busy evening saw us net around £800 for our own charity fund. Thanks to Mike and the Wickham Beer Festival team for organising another great evening, which has raised over £110,000 in the 17 years the festival has been running. The total raised from our own Beer Festival BBQs now tops £12,000!

Photograph: Scouts Luke Thomas and William, plus leader Jo Fox of 1st Swanmore Scout Group, showing off one of their new tents