April 2018
Celebrating two new members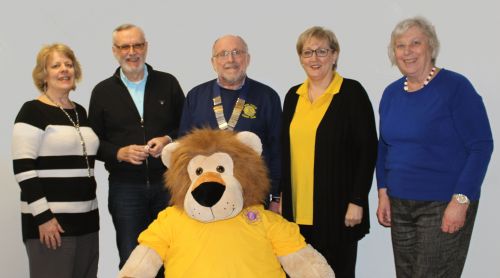 After an extended period during which the membership of Meon Valley Lions Club has held steady at 22, we are delighted to welcome two new members to our organisation. Carole Dash and Gary Martin were officially "badged-up" at our monthly business meeting in March, in a short ceremony overseen by President Dick Cowles and Vice-President Sheila Campbell.
Photograph (L to R): Lions Dinah Weberstadt and Gary Martin; President Dick Cowles; Lion Carole Dash and Vice-President Sheila Campbell with (front) Lion Lamar Wilkinson

Both Gary and Carole have already attended a number of Lions' social and fund-raising events in recent months, not only as a way of getting to know existing members, but also to find out more about Lions and the way we operate. As a club, we feel it's important to ease members in gradually and not simply throw them in at the deep end. Becoming a Lion provides fun and companionship, but it also requires commitment as a volunteer and people need to go into this with their eyes open. To help with this induction process, we allocate a sponsor to each prospective, new member, a person who will subsequently take on the role of mentor for that individual. On this occasion, Dick Cowles sponsored Gary and Dinah Weberstadt sponsored Carole.

Carole is no stranger to Lions – her father was a Lion for many years and her mother set up the Crawley Lionesses club. She is a manager responsible for company mergers, relocations and office fit-outs and is currently taking a career break to renovate residential properties (seems like a bit of a busman's holiday!). Carole's latest DIY-SOS scheme is in Hedge End and no doubt her organisational skills and enthusiasm for project management, will come in really handy on some of our fund-raising projects.

Gary encountered Lions through taking up an invitation to our PSA prostate cancer screening event at Bishop's Waltham, last August. He has been retired for just over three years and now lives in Wickham. Gary worked previously for one of the largest engineering and construction conglomerates in the UK which, in its day, designed and built ships, bridges, offshore oil rigs and chemical, polymer and pharmaceutical production plants around the world. Since retiring, Gary has enjoyed vacations, walking, reading and helping his wife Sue with the grandchildren – but with Lions he's looking for something that will provide a different kind of personal fulfilment. This can be arranged Gary! It's evident to a number of the older Lions that Carole and Gary's skills are highly complementary and could well be put to good use, for example, building a new sleigh for Santa in 2018!

Membership recruitment is a major challenge and focus for Lions clubs across the UK. It's difficult finding new members willing to commit time when most of the adult population have super-busy lives. Only when the kids have left home, the mortgage is paid and work pressures ease, do many people find the time and the energy to commit to volunteering. So, with this in mind, the Meon Valley Lions Club proposed one initiative at the recent Lions District Convention held in Portsmouth, that is designed to remove at least one objection to potential members. Our resolution (which was successfully adopted at the Convention) called for an individual's £25 joining fee to be paid from the District's own financial reserves, for the next twelve months. This means there's never been a better (or at least cheaper) time to become a Lion. Why don't you join Carole and Gary in putting something back into your local community and at the same time have some fun with like-minded people? There's a calendar on our website listing our social and fund-raising programme – feel free to join us at an upcoming event, or one of our monthly pub socials to meet us and find out more.
Charter night
Our thanks go to Lion Pete Meadows for making such a splendid job of organising our Charter Night dinner at Banks' Bistro in Bishops Waltham in March. A great time was had by all concerned - even President Dick Cowles, when presented with a splendid new Lion-hat! Goes nicely with the DJ don't you think?