April 2019
Netting some cash for charity.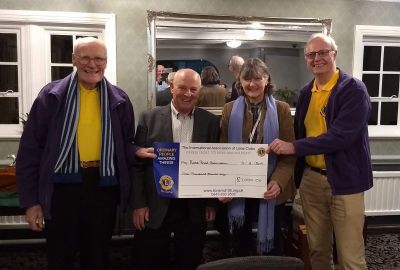 We recently handed over a cheque for £1,000 to The Rose Road Association at a presentation hosted by the Ford Sports and Social Sea Angling Club. The money was raised at the annual charity fishing festival on Weston Shore in January – an event which the Meon Valley Lions Club has supported every year since the 1990s. It's all very serious stuff, with over 80 keen anglers participating for big prizes, but for us Lions it's usually a vague memory of a silly o'clock Sunday morning start and a day of experiencing cold and wet for charity. It's worth it though, if only for Roy's egg and bacon butties for breakfast after the set-up!
Established in 1952, The Rose Road Association works with over 400 children, young people and their families from across Hampshire and the surrounding counties. The young people who come to Rose Road have a range of disabilities including severe and profound learning difficulties, physical disabilities and autism. This can lead to health problems linked to respiration, digestion, epilepsy and sensory impairments affecting sight, hearing and touch, as well as speech and ways to communicate. They're a really great bunch and the people who work for Rose Road do a fantastic job helping them to bring out their talents and realise their dreams and aspirations. The group is funded entirely by charitable donations, so we were pleased that our fishing festival efforts contributed a much-needed £1,000 towards their future equipment needs and running costs.
Photograph: Fishing festival cheque presentation Left to right: Ron Wilson, Meon Valley Lions Club; Peter Oates, Ford Sports & Social Sea Angling Club; Diana Heatley, Rose Road Association Trustee; Andrew Brown, Meon Valley Lions Club

Swanmore fete – call for bookings!
Plans are progressing well for this year's Swanmore fete with a few fun and interesting new additions to the programme alongside some of your regular favourites. This year, we have the Forest of Bere Bowman providing a hands-on archery experience, the Funky Play-bus where kids can bounce around to their heart's content, and for the very first time, a dog show for the pampered pooches of Swanmore. We're not intending to compete with Crufts, but we are going to have some fun and award some prizes for a number of categories.
Now is the time we would like to hear from you if you want to be involved. We are taking registrations for the various events, so if you would like to get your name in the frame, this is how to get in touch. If you are interested in:
Classic cars: e: fetecars@meonvalleylionsclub.org.uk or call Steve on 02392 599640

Classic bikes: e: fetebikes@meonvalleylionsclub.org.uk or call Pete on 01489 895300
Taking a stall: e: swanmore.fete@gmail.com or call Dick on 01329 832433
Entering the dog show: e: dogshow@meonvalleylionsclub.org.uk or call Polly on 01489 559222
We look forward to seeing everyone on Saturday 13th July!