December 2014
Lots happening in the Club this month!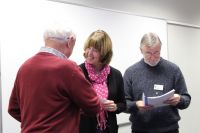 Meon Valley Lions are pleased to welcome another new member to our Club. Sponsored by Lion John Ormiston, Kathryn Holladay was badged up at our recent November monthly business meeting. Kathryn has lived in the area for thirty years and now resides in Wickham with her husband Nic. Previously she was a head teacher at a school near Petersfield and plans to utilise some of her great experience in this field to benefit our youth initiatives.
At the same meeting Pete Meadows received a certificate recognising 20 years' service with Lions - well done Pete, expect some time off for good behaviour soon!
On Sunday 7 December we enjoyed a delightful evening at De Vere's conference centre at New Place, Shirrell Heath. New Place kindly host our monthly business meetings but on this occasion they did us proud with a Christmas dinner and party attended by over thirty Lions and partners. The food was fantastic and we enjoyed a great evening with music, dancing and good company with old friends. Roy Cuthbertson and Myra Ormiston also celebrated their birthdays on the day - many happy returns both!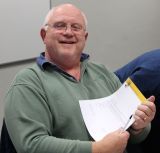 Finally, a lovely story of Kath Reed, a Swanmore resident who recently celebrated her 100th birthday. Our president John Wooldridge went along with his wife and Lion Sue to present Kath with a birthday card and a decorative basket of plants. Kath was born on 17th December, 1914 in the house named "Belmont" in New Road, Swanmore, the daughter of Mr and Mrs Albert Horner who owned a garage, filling station next to the house.

Kath attended Swanmore C of E Primary School, then finished her education at a small private school in Bishops Waltham. Kath went on to be a "pupil teacher" (classroom assistant) in the same school for a while, but later left to help with the family business, serving petrol and paraffin to customers. It was at this time that she met her future husband, when she served him petrol for his motorbike! In April 1935 she married Robert (Bob) Reed in St. Barnabas Church and they went to live in Broad Lane, first in the house now called "Meadow view" while "Perivale" was being built. They moved into "Perivale" in June 1935 and spent their entire married life there (64 years) bringing up their two daughters Pat and Pauline. Kath has always been very active in Swanmore belonging to the young wives, W.I., S.A.D.S., Mothers Union and the British Legion. Happy birthday Kath from all the Meon Valley Lions!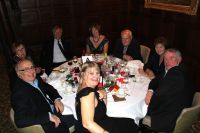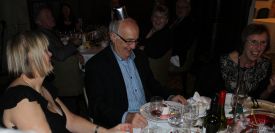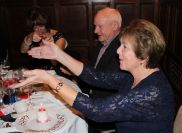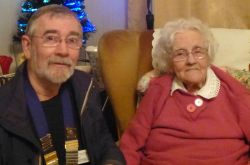 Photos: Top - Kathryn Holladay is welcomed to the club by John O and President John W and Pete with his 20 year certificate

Middle - (from left to right) - Table A at the Christmas bash, birthday girl Myra and birthday boy Roy.
Below - President John Wooldridge chats with centenarian Kath Reed