December 2016
A time for giving and receiving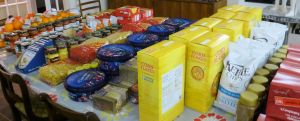 The run-up to Christmas has always been a period when the Lions are extremely busy, whether it be fundraising with our Santa Claus trips through the local villages, or distributing charity to those in need in the local community. This year was no different.In December, Meon Valley Lions Club funded ten Christmas Hampers for distribution by the local charity, Homestart Meon Valley, an organisation we work very closely with throughout the year. This
fantastic voluntary group based in Wickham Community Centre, provides local support services for families whose members are, for whatever reason, going through tough times financially or emotionally. Established in December 1998, the charity works to support numerous families in the southern parishes of the Meon Valley and also covers the areas of Whiteley, Knowle and Denmead.
Lion Sheila Campbell has a close relationship with Homestart and purchased the groceries included in the hampers from a local Sainsbury's. Not only did the supermarket discount the foodstuffs, but also added ten tins of chocolate sweets free of charge, which was a great gesture that was really appreciated. Sheila had the pleasure of delivering two of the hampers personally and on wishing the recipient "A happy Christmas", was delighted to get the response, "It will be now!"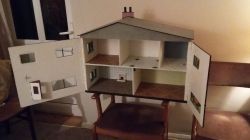 In November, Meon Valley Lions members had attended the 'Toy Service' at Swanmore Methodist Church and took receipt of several boxes of toys for distribution to children who may not normally enjoy the gifts and presents that many children come to expect at Christmas time. We again worked with local charity organisations to find places for these toys and put a smile on a few young faces. Our thanks go to Mavis Daniels and all those at the Methodist Church for their generosity and support again this year.
One of the donations we received in the autumn, was a beautiful, hand-made dolls' house and we have been searching ever since for a local family in need, who would appreciate this wonderful toy. It comes complete with furniture and would surely make some deserving child very happy – can you help us find a home of it? Use the contact-us page on the Meon Valley Lions' website and we'll do the rest.
In January, the Lions embark on one of their more challenging activities in the fund-raising calendar, when we descend on Weston Shore, near Netley, for the annual charity Ford Fishing Festival. The weather can be interesting at this time of year, ranging from sub-zero temperatures to horizontal rain off the Solent! The fishing competition is now in its 42nd year and it has become a tradition that the monies raised from the event are donated to The Naomi House and Jack's Place children's hospice charity in Winchester. If we've thawed out, we'll provide a full report in our next news article.
Photograph: Top:Christmas food for the hampers Below: Dolls' house