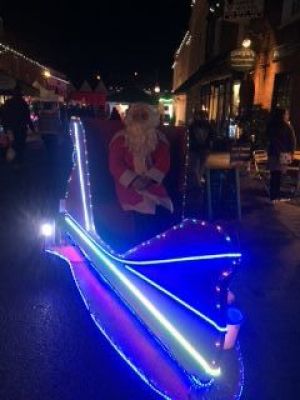 DECEMBER NEWSLETTER
Santa out and about in the Meon Valley
The run-up to Christmas has always been a period when the Lions are extremely busy, whether it be fundraising with our Santa Claus trips through the local villages or distributing charity to those in need in the local community. This year was no different.
Our Christmas collections with Santa out in his new sleigh, started in earnest in December - thanks for ALL your donations, it makes a big difference to people's lives in the Meon Valley. Here Santa was spotted in Bishop's Waltham - did you see him this Christmas?
Supporting the unsung heroes of the Meon Valley

Meon Valley Food Bank are some of the unsung heroes in our area providing essential help when people need it, often when they have nowhere else to turn. We were proud to present them with a cheque for £300 to continue their work and provide some extra treats for families this Christmas. The Food Bank is located in Bishops Waltham.

As you can imagine these hampers are well received and make a huge difference, especially
at this time of year; without the support of the Lions and all the local people who support us we wouldn't be able to do this so we would like to say a special thank you to everyone for the generous support throughout the year.
Samaritans
It is hard to think of a group of people who provide critical help when people need it most. In the UK the Samaritans respond to a call for help every six seconds; their ethos is No judgement. No pressure, There for anyone who needs someone.
More locally, the Portsmouth and East Hants Samaritans wanted help refurbishing their very tired and dated training facilities. All volunteers receive refresher training every 3 months. Meon Valley Lions donated £500 to pay for the refit. Samaritans are available every day, any time and are free to phone on 116 123 if help is needed.
A date for your diary
In January, the Lions embark on one of their more challenging activities in the fund-raising calendar, when we descend on Weston Shore, near Netley, for the annual charity Ford Fishing Festival. The weather can be interesting at this time of year, ranging from sub-zero temperatures to horizontal rain off the Solent! Next year will be the fishing competition's 45th year and as last year, the monies raised from the event are donated to The Rose Road Association. They provide vital services for over 300 children and young people with severe physical disabilities, learning difficulties and/or autism from across Hampshire. If we've thawed out, we'll provide a full report in our next news article.