December 2020
Sorry, no Santa this year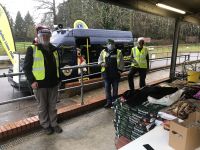 Santa runs are usually a large part of Meon Valley Lions Club's fundraising events, but we were out in the villages and really impressed with the number of people who took the time to chat and make a donation, in these really difficult times.
We'd like to thank everyone who supported us in raising over £2,500 which will be used to help needy causes shortly; one of the projects we are currently looking at is providing computers for schools to lend to those who need equipment to help with home schooling.
Spreading some Christmas cheer
Meon Valley Lions Club, following consultation with Age Concern, delivered 19 hampers to local needy residents. Eddy Barringer, President of Meon Valley Lions Club said, 'thanks to the support of the public, it was our great pleasure to give just a little Christmas cheer to the most lonely and financially pressed residents of our area.'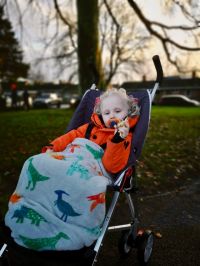 New wheels for a local family
Meon Valley Lions Club came to the rescue of a local family in need of a 'new set of wheels'. Basic tasks like going to the shops or school were a major challenge as the family were struggling to teach road safety to their 4 year old with autism. Providing the family with a buggy, for an adult child, will help all them get out and about safely and help teach their youngster about the dangers of the road.
Do you or anyone you know need help?
If you, or someone you know, needs help please get in touch on 07443 753780 or go to our website /_contact.html
If you'd like to donate:
TO GO: Donations - MEON VALLEY LIONS CLUB (CIO) (peoplesfundraising.com)
TEXT DONATION: Simply text LIONS to 70490 to donate £3
OR if you would like to donate between £1 and £20 text LIONS followed by your donation amount e.g. to donate £5 text LIONS 5 or to donate £10 text LIONS 10.
Texts cost your chosen donation amount plus one standard network rate message.
OUR WEBSITE: /donate.html
SEND A CHEQUE: If you prefer to donate by cheque, bank transfer or cash please email our Treasurer: treasurer@meonvalleylions.org.uk
PLEASE HELP US SUPPORT OUR LOCAL COMMUNITY
As always thank you for your support
DATES FOR YOUR DIARY
Swanmore Fete 2021 - We'll keep you updated on our website but in the meantime please add next year's date to your diary: Saturday 10th July 2021.
Annual Ford Charity Fishing Festival 2021 – We're sorry to report this has been cancelled for 2021.