February 2015
Fish and snowdrops by candlelight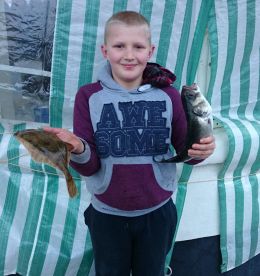 On a freezing January morning the intrepid Lions donned fleeces and balaclavas and once again headed for Weston Shore on Southampton Water for the Ford Charity Open Sea Fishing Festival. Despite the fact that the Ford plant is now part of history, the Sea Angling section of the Ford Sports and Social club remains fully active, with a strong membership and full competition programme. The highlight of the season is the Charity Fishing Festival which is now amazingly in its 40th year and Meon Valley Lions were delighted to support the event once again, managing the set-up, marshalling and weigh-in.
We were greeted with 0 degrees Centigrade but crisp blue skies and an excellent turnout of 110 seniors and 6 juniors. Between them they landed one of the best catches in recent years, comprising almost exclusively flounder plus one bass. 35 fishermen weighed in including two juniors, and here are the winners:
Juniors: 1st, Matthew Taylor with a catch of one flounder and one bass, weighing a total 2lb 6oz.
Seniors: 1st, Phil Steele of Havant, with a catch of three flounder weighing a total 3lb 61/2oz
The heaviest fish competition was won by Eddy Alsford of the Ford Sea Angling Club.
From the competition proceeds, a raffle and some rounding-up from our own funds, we now plan to make a £1,250 charity donation to the Naomi House/Jack's Place Hospice charity in Winchester. Meon Valley Lions haven't been involved with this event from the outset, but since we started to support it in the 1990s the monies we have raised has grown to a running total of in excess of £40,000. The beneficiary has always been Naomi House and we will be formally presenting the cheque to representatives of the charity at the prize-giving ceremony in March. It's another great result and our thanks go to the Ford Sea Angling section of the Sports and Social club, the Transport and General Workers Union and all the fishermen for their support.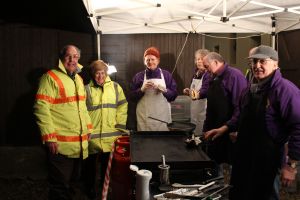 For the second year, Meon Valley Lions were pleased to support the "Snowdrops by candlelight" event at Hill Farm House, Swanmore, by providing a BBQ service for the paying visitors. On a chill February night, an enchanting walk through a picturesque woodland glade, featuring thousands of snowdrops lit by hundreds of candles, proved enough to entice folk away from the warmth of their lounge. Over a couple of hours, on a delightful evening, we served over 250 steaming hot BBQ portions to the benefit of the Rowans Hospice and Ickle-Pickles charities.
Finally, in February, the Lions enjoyed a pleasant skittles social evening at the Phoenix pub in Twyford. Thanks to Sue Wooldridge for organising a great evening. Well done to the ladies' team who soundly trounced the men and to Ian Adams for winning the individual "Killer" competition.
Photographs:

(Top) Junior winner Mathew Taylor showed the seniors how it's done.
(Below) The BBQ team with Eileen Jayne-Wood MBE, Chair of the Southwick, Boarhunt and Meon area Rowans Hospice support group