January 2016
Beware false Santas bearing buckets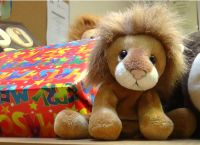 On the fund raising front, it's been a busy period. Our Father Christmas collections in December raised a staggering £5,062.43, which is a record result and the first time we have cleared the magic £5,000 figure. Thanks to all those who donated and the many non-Lion volunteers who helped us this year, driving the van and pounding the streets in some pretty damp, unpleasant weather.
The figure could have been higher. We're disappointed to report that while we were collecting in Wickham on Wednesday 23 December, a man dressed in a tatty Santa outfit and carrying a B&Q bucket, took advantage and pretended to be collecting on behalf of Meon Valley Lions. We believe he conned a number of residents in Manor Close into making donations, before he was challenged by one resident, who also brought the matter to our attention. Although we are not sure quite how much money was taken by this sad individual, we in turn brought the theft to the attention of the Police. We apologise to any residents of Manor Close who were taken in by this deceit and gave money in all good faith, for what they thought was the Lions charity collection.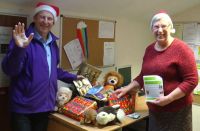 If you recall seeing a young man aged between 20 and 30, wearing a Santa suit (but without the beard) on that evening in Wickham, please help us identify the culprit and drop a line to the "contact us" page of our website. For future reference, all our collectors operate close to the Lions minibus and brightly lit Santa sleigh and wear hi-vis jackets clearly marked with "Meon Valley Lions".

You may wonder what happens to all the money we collect. Over 80% goes to local needy groups and individuals. One organisation we support is Home Start, a national family-support charity, working in the Meon Valley with around 30 families who have hit a crisis, or are struggling to get by for various reasons. This year we funded Christmas food hampers, which we delivered to the families together with toys and other Christmas presents donated by other local organisations. If you'd like to see more, the "That's Solent" T.V. team has produced a short video which you can watch on the Service & Aid page.

Pic (above) Eddie and Sheila getting the Christmas presents ready for dispatch
Do you really need your Winter Fuel Payment?
We are championing an initiative that allows those in the Meon Valley who may not need their Winter Fuel Payment, to donate it to a fund set up by Meon Valley Lions. This fund will enable us to help those who may be having difficulty meeting their fuel bills. The initiative is run in partnership with Citizens Advice who will be help us identify those in need of assistance. If you feel you wish to participate in this initiative, or know someone who is in need of assistance, please contact Meon Valley Lions via our Contact us page and provide your details, so we can get in touch. Or call us on 0845 833 7812. A leaflet with all this information has also been distributed with the Meon Valley News.

Please let us know of someone who you feel would benefit from help with fuel payments. In fact, we'd like to hear from you if you know of any individual or family who needs support through a difficult period in their life, perhaps needing assistance to purchase specialist equipment to overcome a disability, or youngsters who need a helping hand on a specific project. We can help both financially and in other practical ways and any contact will be strictly confidential.