January 2019
Santa and the "gilet jaunes" raise some cash for charity!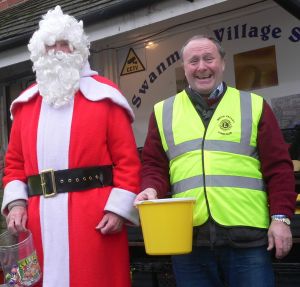 December is always a full-on month for the Meon Valley Lions, both for fundraising and providing support to those in need across the various communities up and down the Meon Valley. Most evenings and Saturdays saw us out and about, fundraising with Father Christmas and his sleigh, from East and West Meon in the north, down to Wickham in the south. It is brilliant to see the reaction of so many excited children when Santa and his brightly-lit sleigh pass by. The smiles and laughter provide more-than ample motivation for the team to drag on the damp boots and hi-vis vests, for another night of charity Christmas collections .
Thanks to your wonderful support again this year, these Christmas collections have raised £4,441.69 for our charity account, including one spectacular evening in Swanmore (west) where we amassed a record-breaking £526.09. We'd like to thank everyone who donated so generously again in 2018 – you can be sure we will be working hard in 2019 to ensure it is spent wisely on local groups and individuals in need. All the cash collected is used by the Lions for our charity activities, with none of your money absorbed by administrative overheads or incidental costs. Typically, 80% of the money we raise each year goes back into projects in the Meon Valley area to support individuals and groups in need, with the balance going to national and international disasters such as the Indonesian tsunami. The Santa collections however are ring-fenced for Meon Valley causes. If you missed Santa this time, it's not too late to help us with a donation – we've gone all "tech" and have an online donation facility on the homepage of our website!
As in previous years, we also scooped up numerous foreign currency of diverse origin, so for the very curious:

| | |
| --- | --- |
| Other Contributions | |
| Euros | £8.44 |
| USA $ | £0.60 |
| NZ $ | £1.60 |
| Rupee (India) | £0.06 |
| Rupee (Sri Lanka) | £0.11 |
| UAE Dirham | £0.43 |
| Swiss Franc | £0.24 |
| Croatia Kuna | £0.61 |
| Hungary Forint | £0.03 |
| S/Africa Rand | £0.27 |
| Gibralta £ | £0.10 |
| Singapore $ | £0.06 |
| Honk Kong $ | £0.01 |
| Trinidad | £0.01 |
| Sweden Krona | £0.18 |
| | £12.75 |
One of the local groups we support with the money we raise, is the Meon Valley Foodbank to whom Lions recently donated a sum of £300. It was great to receive a letter of thanks from the Foodbank coordinator Sue Pardon, who tells us that in the period February to December (but not including Christmas) the project has helped over 700 people in this area. A lot of the people being referred to Foodbank are unable to work due to illness and the long time-lapse in payments resulting from changes in the benefit system. Most of us would think of the Meon Valley area as an affluent part of the UK, with few social problems, but these figures demonstrate the harsh reality of life for some in 2019.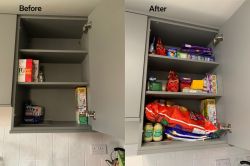 At Christmas time, the Lions were also actively involved with another of our local charities called HomeStart, a fantastic voluntary group which provides local support services for families whose members are, for whatever reason, going through tough times financially or emotionally. We put together eight Christmas food hampers for families HomeStart had identified would be struggling over the festive season. It was great to see a Twitter post from HomeStart containing a photograph from one of the recipients, showing a before and after shot of the impact of the hamper on their kitchen cupboard.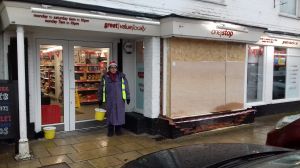 We must also mention Rachel, the Manager of the One Stop shop in Wickham. On a cold, wet Saturday morning she offered our collectors a welcome coffee and then got chatting about what Lions do. Next thing she'd disappeared into the shop only to return with a food and goodies hamper for our Christmas appeal. Fantastic - thanks Rachel! And that's a couple of days after enduring the stress of a ram raid on the shop front.
The Lions rounded off the festive season with a Christmas meal at Greens Restaurant in Wickham, where Lions and their partners were able to look back and celebrate another fine year of fun and fundraising. It all begins in earnest again in January with the bracing Fishing Festival on Weston Shore. Time to put to good use those lovely new socks and thermals auntie Doris gave you for Christmas!
Photographs:
Top - Santa seems pleased with his Croatian Kuna!
Middle - the difference a food hamper makes
Below - The One stop-shop and Happy Hilary the collecting elf!