July 2015
Sun shines on Swanmore royalty.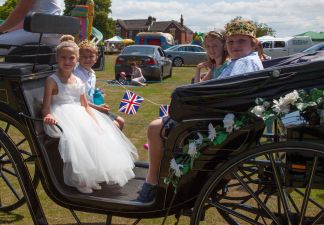 Splendid weather blessed the Swanmore fête this year July and brought a crowd of around 1,500 out for a feast of Lions' BBQ food, fun, dancing and musical entertainment.
The gates opened at the New Road recreation ground at 12.30pm to eager residents, keen to get a good spot for the day's live music line-up. Contraband kicked off the entertainment just after the official opening, which was followed by the Greenery Country Dancing display. The popular Soberton Strummers ukulele band proved a great hit, while the Meon Valley Marriott fitness team coerced a number of reluctant volunteers from the crowd to participate in a special Zumba demonstration. Swanmore College's jazz band wrapped up the musical section with a very professional performance of a range of popular tunes, shortly before Roynon School of dance performers took over the arena for a session of modern dance.
The day finished off with the raffle but not before visitors got the chance to look over some of the many classic cars and motorbikes driven in from across the county just for the event. In addition to the wonderful display of classic cars and bikes, we were lucky to have Hayward's Carriages present to provide a suitable mode of transport for the fête King, Queen, Prince and Princess. All pupils from Swanmore Primary School, the royal group looked a real picture in their beautiful horse drawn carriage.
Meon Valley Lions Club, who have helped organise this event as a charity fundraiser for a number of years, were delighted to collect over £3,000 on the day.
Photograph (courtesy of Brian Pancott Photography):
From left to right: Princess – Freya Cole, Prince – Harrison Smith, Queen – Elysia Pateman, King – Harrison Stanilas.
A place for everything and everything in its place!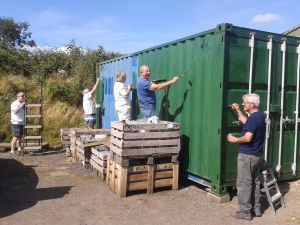 Meon Valley Lions Club has recently invested in a new site storage container for all our bits and pieces - everything from our BBQ kit to Santa's sleigh and collection buckets.
The container was supplied from Southampton docks by Geest Line Limited, who provided free transport and installation through S.O.S. site container hire.
The container has been installed at a new site over in Titchfield Lane and our grateful thanks go to Tom Houghton the landowner, for providing the space. Thanks also to farm manager, Simon Buckley, who has been really helpful sorting out all the arrangements and overseeing the installation.
Our picture shows our intrepid band of volunteers applying a fresh lick of paint on a very hot Saturday morning in July. The paint was dry almost as soon as it left the brush, but it's a half decent job, even if we say so ourselves.
We'd like to extend our appreciation to Geest, SOS, Tom and Simon for getting us on our feet with this great new facility.