July 2017
Lions serve up a fine result!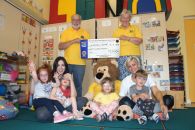 The Meon Valley Lions Club has presented the Rainbow Centre in Fareham with a £1,000 donation, following their involvement with a highly successful Family Fun Day. The Lions volunteered to deliver the barbeque catering at the Centre's recent, annual, summer Fun-Day event, and sold hundreds of sausages and burgers to raise this grand sum.
The Rainbow Centre has been operating for 26 years in Fareham and relies heavily on donations to deliver its Conductive Education service for children and adults,from all over Hampshire. These special programmes encourage children and adults to improve mobility and movement in the face of disability caused by cerebral palsy, adult-stroke, brain injury, Parkinson's disease or similar.

Commenting on the donation, Jess Greenwood, Event Fundraiser at the Rainbow Centre said, "Catering for large numbers at the annual fun day is always a challenge, but the Lions' BBQ food was great quality. They were also seriously-well organised and catered for the large number of visitors with ease."

Photograph (left to right): Jessica, Amy (Assistant Conductor), Matilda, Lion Roy, Lion Lamar, Skyla, Lion Sheila, Bea (Conductor) and Frankie