June 2015
All fun and fund-raising
Expect lots of fun for all the family at Swanmore village fete this year! Gates open at 12.30pm on Saturday 11th July. There'll be live music from Contraband, Soberton Strummers and Swanmore College of Technology Jazz Band, as well as traditional and contemporary dancing and a join-in Zumba session. Once again we'll have the classic cars and bikes on display, plus, we've over 40 stalls, coconut shy, beat-the-goalie, games and rides and oodles of yummy things to eat and drink. Come in fancy dress (the theme is fairy-tale characters) and get in FREE! See our advert elsewhere in this programme for more details. To book a stall please visit the Meon Valley Lions website and drop us a line via the "contact-us" page.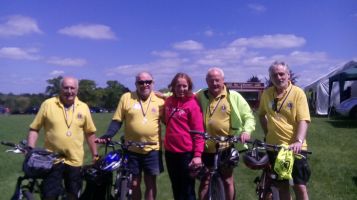 For the second consecutive year, Meon Valley Lions took part recently in the charity "Horse or Bike" ride, organised by the New Forest Rotary Club. The event attracted more than 300 entrants, including the four-man Lions bike team comprising Roy Cuthbertson, Dick Cowles, John (Duracell-bunny) Ormiston and Ian Adams. Starting at Burley, riders had a choice of mainly off-road routes through the New Forest, enjoying some of Britain's most beautiful countryside en-route. Beautiful weather and great organisation made for a highly enjoyable day, allowing the participants to raise lots of money for a variety of chosen charities. Meon Valley Lions once again supported The Rose Road Association charity, based in Southampton. Established in 1952, Rose Road works with over 400 children, young people and their families from across Hampshire and the surrounding counties. The young people who come to Rose Road have a range of disabilities including severe and profound learning difficulties, physical disabilities and autism. They're a really great bunch and the people who work for Rose Road do a fantastic job helping them to bring out their talents and realise their dreams and aspirations. The group is funded entirely by charitable donations. As we go to press it looks like our donations should just surpass the £1,000 mark which will go towards their future equipment needs and running costs.Photograph: The intrepid cyclists - Roy, Dick, John and Ian with Sue Harbottle of Rose Road Association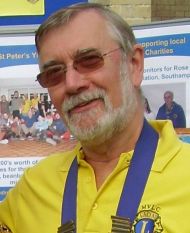 In June of each year, the Lions club has "changeover," when members assume new roles within the club. Sadly, as our current President John Wooldridge reaches the end of his tenure, he is not only stepping down as President but leaving the club completely. Together with his wife, fellow Lion Sue, he is relocating to the Welsh Marches as part of a retirement plan. We'd like to thank John and Sue for their support and considerable contributions to the Meon Valley Lions club over the last few years and wish them well getting their tongues around Welsh place names and settling in their new home near Monmouth.