June 2018
Looking back and looking forward
June sees the end of the Lions financial and operating year. It's a time when Lions clubs all over the world undertake "changeover" by appointing new club officers and turning their attentions to another year of volunteering in their local communities. It's a time when we often reflect with pride on the achievements of the old year, while the incoming officers consider their plans for the next.
Outgoing President Dick Cowles has overseen a year that has been quite challenging, for all the wrong reasons. Our twin focus is usually on fund-raising plus identifying organisations and individuals in need, to whom we can direct our financial and other support. However, 2017-18 has been filled with bureaucratic and administrative activities that have threatened to distract us from our primary purpose!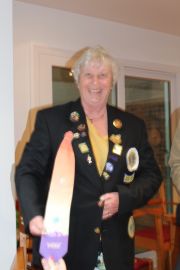 The main challenge has been the need to change our charitable status to ensure that Meon Valley Lions Club, together with the hundreds of other Lions Clubs in the UK are consistently aligned and legally compliant with the Charity Commission's requirements. The simple addition of the CIO (Charitable Incorporated Organisation) acronym on our letterheads and website, belies the hours of work that have been invested by the Club Trustees to achieve this minor modification to our charitable status. It was important that we make the change though, because each year we are raising (and spending) between £15,000 and £20,000 of your money through our activities and we have an obligation to manage our affairs within a responsible framework. If you check our website, we are now publishing our accounts for public scrutiny and you can see just how we raise and spend the money you donate. Add to this the fun and games of manging GDPR (the least said about GDPR the better!) and you'll understand how Dick is now quite ready to stand down and hand over the Chain of Office.

Pictured (right) Incoming President Sheila Campbell and the highly-prized Presidential Jacket
Our incoming President is Sheila Campbell of Swanmore, a person who will be well known to many for her broader community activities with Home Start and her involvement with local government politics. She's aiming for a more straight-forward year when she can redirect our attention back to fundraising and charitable work and will be ably supported in this ambition by another Swanmore resident, Vice- President Andrew Brown.

Lions' Swanmore Fete

Coming up in July is one of the biggest fund-raisers in our calendar, in the form of the Lions' Swanmore Fete. This event alone requires the support and effort of around 30-40 volunteers not including the Lions and their partners, to ensure a successful day. This year the Lions' Swanmore Fete is on Saturday 14th July and we're hoping for fine weather to enjoy a fun afternoon for all the family. Gates open at 12.30pm and there'll be live music from Contraband, Soberton Strummers and Swanmore College of Technology Jazz Band, as well as a falconry display and contemporary dancing. Once again, we'll have the classic cars and bikes on display, plus, we've over 40 stalls, coconut shy, games and rides and oodles of yummy things to eat and drink. Full details are on the Lions' Swanmore Fete page of our website.