June 2019
Lions wot lunch!

Although Lions is an international organisation, all our many clubs across the world have a local focus, providing support for groups and individuals in need, in our local communities. Very often, we cooperate with other local charities and support networks to bring help and assistance wherever it is needed.

Lunch clubs would be an example of the sort of organisations with which we partner. Lunch clubs operate in Curdridge, Bishop's Waltham and Wickham, providing a convenient and inexpensive way for elderly people to meet and socialise with friends over a hearty meal. The Lions' minibus and their volunteer drivers, play an important role in transporting lunch club members to and from the lunchtime get-togethers.

Bishops Waltham lunch club meets on a Monday and Thursday, but when their 20-year-old Kenwood food mixer broke irreparably, it threatened their ability to prepare certain meals and posed quite a problem to the cooks. Meon Valley Lions were approached and after a very brief debate, offered to donate the £234 needed for a replacement mixer to put them back in business. If you are living alone and would like to join one of the Lunch Clubs, we'd be more than pleased to put you in touch. Many lunch clubs in our area are actively seeking new members and the Lions are here to help, providing transport to and from your home. Call us on 0845 833 7812 if you would like to know more.
Photograph: (L to R) Gill Stainer, Chair: Thursday Lunch Club, Rose Mitchell Monday Lunch Club, Audrey Buckler, Chair: Monday Lunch Club, Janice Romer Thursday Lunch Club and Chair: BW Care Group plus Lions John Hanley, Andrew Brown and John Sharpe

Lions' Swanmore fete – Saturday 13th July
Swanmore village fete has always been a good, old-fashioned, traditional village fete, and the Meon Valley Lions have been organising it now for over 15 years. There'll be live music from a number of bands including Soberton Strummers, Swanmore Wind Band and Swanmore College of Technology Jazz Band. There's a chance to try out archery, lose the kids on the Funky PlayBus and for the very first time, a Dog Show! Once again, we'll have the classic cars and bikes on display, plus, we've over 40 stalls, coconut shy, beat-the-goalie, games and rides and loads of yummy things to eat and drink. The motorbikes congregate at the Rising Sun pub mid-morning before their Meon Valley rally run to The Hampshire Hog in Clanfield and back.
Gates open at 12.30pm on Saturday 13th July. Adult entrance is only £2.00. For further details, to enter the dog show, register your car or bike or book a stall, check the events page of our website.
Tea and Music in the Garden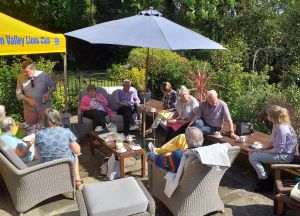 When we're not raising money, Meon Valley Lions enjoy an active social programme. It's part of the glue that builds friendships within our club and keeps a large group of people working as a team. In May, we were lucky to enjoy some early summer sunshine at our "Tea and Music in the Garden event, hosted by Lion Hilary White. The wind quartet played a great accompaniment to our traditional afternoon tea and we extend our thanks to Jen Meadows (wife of Lion Pete) for bringing her band of musician friends along. If you would like to find out more about Lions and becoming a member, one of these socials might be a great of getting to know us. Drop us a line via the contact-us page on our website.