March 2015
Proper wash and brush up!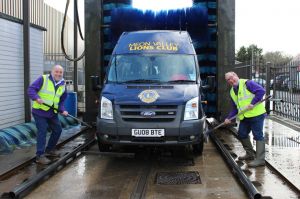 For a number of years, the Meon Valley Lions Club has provided a free community bus service to clubs, charities and older and disadvantaged people who lack access to transport around the Meon Valley villages. Unfortunately, in this country area the muddy lanes take their toll and the Lions' drivers, all of whom are unpaid volunteers, were spending as much time cleaning the bus as driving it.
Step to the rescue Lucketts Travel of Fareham! Lucketts operate one of the largest fleets of coaches on the south coast and have at their Broadcut depot a full-scale, industrial bus washer. Lion John Sharpe approached Lucketts to ask whether the Lions could use the bus washer from time to time and was delighted when Director Ian Luckett agreed.

"The Meon Valley Lions Club is a charity run by volunteers," said John Sharpe, who manages the Lions' bus service, "and having access to the bus wash facility is saving our members dozens of hours each month. Now that we no longer have to hand wash the vehicle, we can commit our valuable time to our core activities of fund-raising and providing various forms of community support."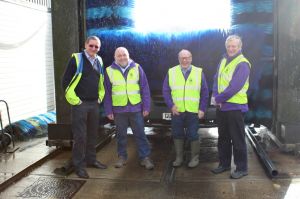 In 2013, thanks to the generous support of the Southern Cooperative at Wickham and their Community Card scheme, the Lions Club were able to invest in a new minibus which has been travelling the highways and byways ever since. The club's free minibus provides regular weekly transport service to organisations including Swanmore Friday club, Carers-together Open-sight and Wickham lunch club, covering over 5,000 miles and completing over 1,200 passenger journeys a year. On the run up to Christmas you'll also see the minibus pulling Santa's sleigh around the area as part of the Lions' Christmas charity collection appeal.

Commenting on the arrangement, Ian Luckett said, "The Lions do a great job in the local community and we were really pleased to be able to support them in this way to help them carry out their valuable work."

Photograph:
(top) Dick and Chris apply the final touches to ensure the Lions bus comes up gleaming!

(bottom) from L to R Ian Luckett with Lions Dick Cowles, Chris LeVoi and John Sharpe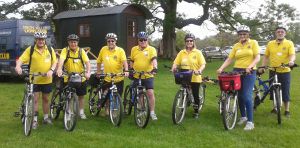 On yer bike! Following our successful sponsored New Forest bike ride in 2014, the Lions are once again putting up a team this year. The annual charity "Horse or Bike" ride is, organised by the New Forest Rotary Club each May and attracts over 300 entrants who have the option of cycling, walking or horseback as their preferred mode of transport.
Meon Valley Lions raised around £1,200 in last year's ride and chose to donate our sponsorship efforts towards The Rose Road Association, based in Southampton. We will do the same again this year to support this very worthwhile cause. Established in 1952, The Rose Road Association works with over 400 children, young people and their families from across Hampshire and the surrounding counties. The young people who come to Rose Road have a range of disabilities including severe and profound learning difficulties, physical disabilities and autism. The money we raise will go towards their future equipment needs and running costs. Please visit the events section on our website and follow the link to Virgin Money Giving website if you would like to support us.