March 2017
Finding gold at the end of the Rainbow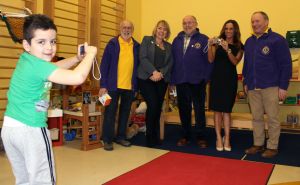 A small delegation from Meon Valley Lions recently accepted an invitation to visit the Rainbow Centre in Fareham, to find out more about this specialist day centre for Conductive education. The Rainbow Centre has been operating for 26 years in Fareham and specialises in assisting children and adults to improve mobility and movement in the face of disability caused by cerebral palsy, adult-stroke, brain injury, Parkinson's disease or similar.

Conductive education was considered "alternative" when it first arrived from Hungary in the 1990s, but the Peto Institute had been pioneering this treatment since 1945 with remarkable results and now the treatment is accepted as mainstream.

The "Conductors" at the Rainbow Centre have been trained in the Peto Institute techniques developed in Hungary. They help patients to retrain unaffected areas of their brain to deliver improved functionality and movement, through setting new goals and progressively stretching the individual's achievements. The whole principle is based on focusing on what you can do, rather than what you cannot do – and building on it.
Every patient session is recorded through stills or videos, to provide a historical record of progress over time. So, when Yvonne Campbell the Senior Community Fundraiser approached the Meon Valley Lions to see if we could help by purchasing two new high quality Sony W830 cameras for this purpose, we were delighted to help out. As you can see, one of the Rainbow centre regulars Eduard Cretu, has really got the hang of them!

The Rainbow Centre relies almost entirely on corporate and private donations and charity fundraising to provide this fantastic Conductive education service, which costs about £127 per session. The full-time team of nine, plus a small army of volunteers, delivers treatment to a total of 55 visiting children of various ages (plus parents who are an integral part of the programme), as well as 50 adults from Hampshire and the surrounding counties. It's great that such a wonderful facility exists on our doorstep, doing such a fantastic job. We look forward to supporting the Rainbow Centre again in the near future, with a summer barbeque.

Photograph: Eduard Cretu takes a picture of (L to R) Roy Cuthbertson, Yvonne Campbell, Dick Cowles, Kelle Russell and Chris LeVoi.

Nothing fishy here!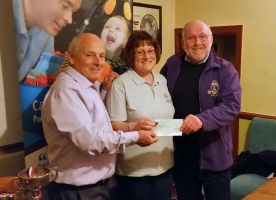 Lion Vice President Dick Cowles attended another presentation this month, to hand over a cheque donation to the Winchester based hospice Naomi House and Jacksplace. As we reported in our February news update, Meon Valley Lions Club once again supported the 41st Annual Ford Charity Sea Angling competition on Weston Shore. The £1,000 cheque was presented to Sarah Hudson, Area Fundraiser of the Naomi House charity on the evening of the Sea Angling Club's annual prize-giving, by Dick and Peter Oates the event organiser and ex-Ford employee. Over many years, this fishing competition has generated substantial annual donations that have grown to a total now approaching £45,000.

Photograph: (L to R) Peter Oates, Sarah Hudson and Dick Cowles