March 2018
Aid delivered when and where it's needed, with no overheads!
Sadly, there has been a lot of controversial press recently about international charitable aid organisations. Lions fall loosely into that category in that we provide aid, are registered as a charity and work internationally, but that's where comparisons stop. Meon Valley Lions, are members of Lions Clubs International, a global network of 1.4 million volunteers and we work through this international network of clubs to make a real difference. When a humanitarian crisis strikes, Lions Clubs International Foundation mobilise cash and resources but work with, and are guided by, their own Lions members who are ordinary, local people present on the ground.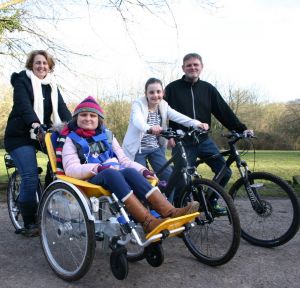 As the World's largest voluntary, non-governmental organisation, our volunteers fundraise and serve their own local communities, with every penny raised being used to help those in need. We don't spend money on fancy fundraising campaigns and all our administration and marketing costs are funded by members' subs. It can prove challenging providing aid this way, but we are committed not to waste the money entrusted to Lions by the public and ensuring it can genuinely help victims of a disaster. Lions Clubs of the British Isles are very grateful for public support, which enables us to commit to solving long-term problems through our presence in local communities throughout the world.

Meon Valley Lions Club has a policy of dedicating a minimum of 80% of its fund-raising activities to local good causes and projects, with the balance going to national and international relief causes. One of our most recent projects was the purchase of a specially adapted duet-bike for Ella who lives in Shirrell Heath. Ella is 10 years old and suffers from Rett Syndrome, a rare neurological disorder resulting in severe mental and physical disability. Lions contributed a shade under £3,000 towards the cost of this specially adapted bike, so now she is able to join the whole family on cycle rides in this beautiful corner of Hampshire. A great investment!

Photograph (above): Ella on her special duet-bike, out with the family
As a club, we are open and transparent about our fund-raising and where we spend the money. If you visit the "About us" section of our website, there is an accounts page containing a full breakdown. If you would like to get involved and help our charitable work, you can contact us via the website, or you can simply make a donation on the home page.

Meon Valley Trail charity walk
On Saturday 12th May, Meon Valley Lions Club is organising a sponsored walk along the old Meon Valley railway line (The Meon Valley Trail) from Wickham to West Meon. We are partnering with a number of charities on this event, including Homestart – Meon Valley, Fareham Rainbow Centre, Rose Road Association, Rowans Hospice and Prostate Cancer. Walkers can choose a number of route and distance options, to suit adults and children and then channel their sponsorship to one of these listed charities via the charities' own "Just Giving" pages.
Transport will be available to ferry participants between the various start and finish points. Entry costs just £3 for adults and £1 for children under 12, to include transport, water at start/finish and checkpoints, first aid and maps. Entry fee can be paid on the day. For full details and to download a sponsorship form, check out the dedicated page on the "events" section of our website!