May 2015
Cheers to a great fund-raiser!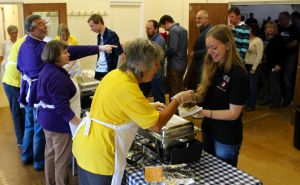 The Wickham Charity Beer Festival has certainly become a popular event in the real ale aficionados' calendar. The April event was the 14th festival to date, attracting a sell-out crowd. Organisers Dave, Mike and Ash deserve credit for a great job in not only putting on a brilliant community event, but also raising heaps of cash for local causes and charities.
The Lions were once again delighted to support the beer festival by providing our BBQ catering for the Saturday evening session. It's a great fund-raiser for us too and the ulterior motive is that there is always an opportunity to sample the wares during the shift breaks!

This year the first burgers were served just before 7pm and we barely drew breath for three hours. Both barbeque grills were in constant use during that time and we sold around 500 portions over the course of the evening, raising over £1,200 for our charity fund in the process. The Beer festival itself raised over £10,000, which is a fantastic result and more than half as much again as the October event last year.

We'd like to make a special mention for the anonymous individual who went around the main hall with one of our collection buckets and persuaded the punters to part with a further £73 in loose change. If you know who this chap was, please let us know because we'd like to thank him and possibly even recruit him for future events!

Photograph: Queues out the door at the Wickham Charity Beer Festival
Swanmore fete

As summer approaches, plans are now stepping up for the annual Swanmore village fete on Saturday July 11th. Although there is not a carnival parade this year (we're giving it a rest) we still want people to get into the spirit and dress up for the day. The theme is "Fairytale Characters" so you have a few short months to sort out your fancy dress costume to be eligible for winning a prize for the best outfit. Those wearing fancy dress get into the fete FREE! If you're interested in having a stall at the fete, please contact us via the Meon Valley Lions Club website or phone 0845 833 7812 to book your space. Any classic car owners who similarly want to take part, should drop us a line to register. For more details check out the special Swanmore fete page on this website.
Other charity work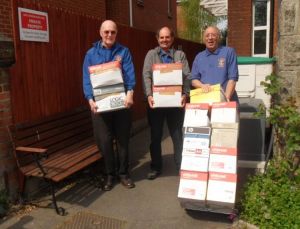 Each April, Lions clubs from across the district organise a "day out with the Lions" trip to Paultons Park for thousands of less fortunate, disabled and vulnerable young members of our community. Meon Valley Lions sponsored 90 of these tickets, enabling a large group of local children nominated via our contacts at Homestart and Children's Centres, to enjoy the fabulous day out. In a separate initiative, we have collected over 750 pairs of redundant spectacles in the last year for the SpecTrek programme run by Lions. This year, Lions clubs across the south of England have amassed a stunning 136,000 pairs of specs, which will be repaired and graded by Medico France, prior to shipment to developing countries to support local sight-loss programmes. Since this programme started over thirty years ago a mind-blowing 2.6 million pairs of glasses have been processed in this way, thanks to the hard work of Petersfield, Midhurst and Chichester Lions clubs who manage the programme.
Photograph: Eastleigh Lions with some of the thousands of specs destined for developing countries