May 2016
It's BBQ season again!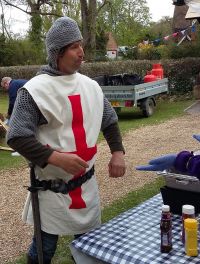 Spring has sprung and the Meon Valley Lions have scrubbed up the BBQ kit for another season of FSA five-star rated, gastronomic excellence. We had three events lined up on consecutive weekends in April and the team's first major outing of the year, was the 16th Annual Charity Beer festival at Wickham. This year we attended on both the Friday and Saturday nights, although the Friday was a purely social affair, when several of us went along to enjoy the excellent beer, blues and curry evening. The hard work was reserved for the Saturday night, when we worked full-tilt from 6.30pm to 10pm, serving over 500 portions and raising around £900 for our charity account in the process. Thanks to Mike and the team for letting us support this great fund-raising event – we look forward to many more. Strangely, we never have any shortage of volunteers when the beer festival comes around!

Sadly, the following week's BBQ at the Canine Partners' Bluebell Walk was rained off. Although the day itself was fine, the ground at Holywell estate was completely waterlogged from two previous days of heavy rain, leaving the organisers little choice but to cancel the event on the Friday afternoon. In contrast, for the "By George" event in Swanmore, the weather turned out rather nice. Set in the beautiful St Barnabas Church and Paterson Centre in Swanmore, this was a community event celebrating St George's Day. Lions is an international organisation, dedicated to supporting local people and communities, so we were delighted to be invited to participate in this wonderful village event. Despite the fierce competition from Barnaby's coffee bar and the cake stall, we managed to sell out our BBQ stock by early afternoon, raising another £270 for our charity account. The whole day was topped off when Lion Ian Adams won a bottle of champagne in the "Guess the weight of the Henry vacuum cleaner" competition.

Photograph: One of our more unusual BBQ customers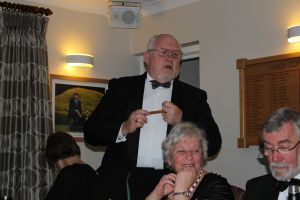 Could you be a Lion?
Lions are ordinary people who do extraordinary things to help others and support good causes. We have 17,000 active members belonging to 900 local clubs throughout the British Isles and Ireland and globally, we have more volunteers in more places than any other service club organisation. Meon Valley Lions club has been going since the early 1970s and currently has 25 members. We are involved in raising funds, organising local events, providing direct support for individuals or groups in the community and responding pro-actively wherever and whenever we can. But we also make sure we have a bit of fun along the way, with a programme of fun social activities. If you'd like to put something back into your local community, why not come along to one of our events and find out a bit more? We're really quite a friendly bunch. Drop us a line via the contact us page or call 0845 833 7812.

Charter night
Thanks to Lion Pete Meadows for organising a splendid Charter Night dinner for the boys and girls at Corhampton Golf Club in April. A grand affair and perfectly executed!
Photo: Pete calling everyone to order