May 2017
Going with Convention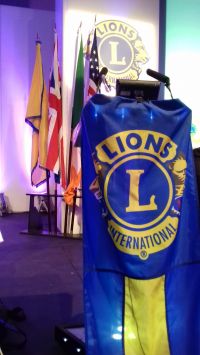 Like many large organisations, Lions has a structure, processes and governance to manage the way we operate. All very boring and tedious stuff, but nevertheless essential, because each year we're dealing collectively with millions of pounds of donations from members of the general public and we need to manage things responsibly.
Lions clubs in the UK organise annual, large-scale meetings called Conventions at both a district and national level in the UK, to discuss wide-ranging business matters and constitutional policies. Representatives from Meon Valley Lions attended the 52nd annual District Convention, covering the south-coast counties, in March 2017 at the Wessex Hotel, Bournemouth. Our guest speaker was Lawrie McMenemy the former manager of Southampton Football Club. Lawrie gave an amusing and candid look inside the world of football, but also gave a passionate account of how the Special Olympics has changed his world and had a very positive impact on the lives of volunteers. Lions District Governor David Taylor presented Lawrie with two cheques and donations totalling £5,500 for the Special Olympics, which represented the proceeds of David's charity appeal for 2016/17, a donation from our District, plus the proceeds of a special charity raffle at the Convention.

There may only be 24 Lions in the Meon Valley club, but across the UK there and over 14,000 members and the national Convention is an even bigger event. This year was extra-special because our organisation is celebrating the centennial of its foundation by Melvin Jones of Chicago. Lion President Ian Adams and Lion Roy Cuthbertson (who is also the district Chairman), packed their buckets and spades and headed to this year's Convention in Blackpool, to hear a fascinating programme of debates and resolutions. Just as the UK is facing the upheaval of Brexit, so Lions in our part of the world are tackling the challenges of Lions clubs in Ireland breaking away from the UK to become a stand-alone Lions organisation. The resulting impact on the remaining clubs in England, Wales and Scotland is not inconsiderable, particularly in financial terms and a good deal of the conference was given over to the way we should re-structure our clubs and districts to meet future needs. Unlike many charity organisations, all the monies Lions raise goes directly to charitable causes, so overhead costs are covered through membership subscriptions and this will be impacted as the Irish clubs depart. We already run things pretty lean and mean via an army of volunteers and we have only 2.5 paid employees on the books at our UK headquarters in the midlands. After much debate, the convention voted through a new regional structure that should ensure efficient local support for clubs, whilst managing costs on a reduced budget.

Another more obvious challenge our organisation faces is the way we must continue to evolve to be a force for good in our local communities. Like many clubs across the UK, the membership of the Meon Valley Lions club is static and has an increasing age profile. We need more volunteers and younger people to move forwards and continue our good work. If you would like to help, please get in touch via the contact us page on this website.