May 2018
Lions – putting in the hours for good causes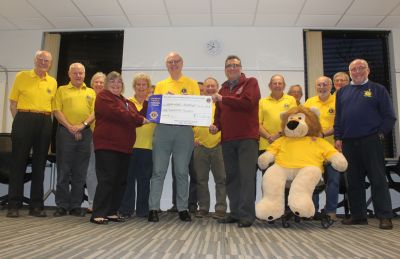 As we reported in our February news update, we once again supported the 43rd Annual Ford Charity Sea Angling competition on Weston Shore. It's a tradition that we channel the proceeds of the Fishing Festival to the Winchester based hospice, Naomi House and Jacksplace and it was fantastic that this year we again managed to generate £1,000 for this hard-working organisation. Busy diaries meant that it's taken a while to finally hand over the money to Naomi House, but we eventually got our act together at our April business meeting and were delighted to present a cheque for £1,000 to Steve and Pauline Bailey, who are ambassadors for the charity. This sum takes the amount we have raised for Naomi House to just shy of £50,000 in the many years we have supported the fishing festival and it was great to hear a presentation from Steve, on just how donations like ours are being put to good use.
Photograph (above): A cheque for £1,000 presented to Steve and Pauline Bailey of Naomi House and jacksplace

Another regular event in our calendar is the bi-annual Wickham Charity Beer festival, where we once again provided the BBQ catering on a balmy, Spring-Saturday evening in April. You might be interested to know that Lions clubs record and report their fund-raising and volunteering activity to our international HQ in Oak Brook, Illinois. The statistics make for some interesting reading – apart from raising over £800 for our charity account, this event recorded that we put in 75 Lion-hours and 31 non-Lion helper hours to deliver the BBQ, totalling 106 hours in all.

Of course, we're never too short of volunteers for the beer festival, but it's interesting to see the amount of time and effort goes into community volunteering for something relatively simple like a barbeque. Lions exist as a community-focused organisation and the reward comes from seeing the benefit of our efforts. This was the 20th Charity beer festival Mike and his team have now raised over £110,000 for the Wickham community.
Lions' Swanmore Fete
Coming up in the summer is the biggest fund-raiser in our calendar in the form of the Lions' Swanmore Fete. This event alone requires the support and effort of around 30-40 volunteers not including the Lions and their partners, to ensure a successful day. This year the Lions' Swanmore Fete is on Saturday 14th July and we're hoping for fine weather to enjoy a fun afternoon for all the family. Gates open at 12.30pm and there'll be live music from Contraband, Soberton Strummers and Swanmore College of Technology Jazz Band, as well as contemporary dancing. Once again, we'll have the classic cars and bikes on display, plus, we've over 40 stalls, coconut shy, beat-the-goalie, games and rides and oodles of yummy things to eat and drink.
If you are looking to take a stall, be involved in the classic bike ride or show off your classic car, you need to book now! Full details may be found on the fete page of our website and on our Facebook page. The entry cost for the fete is still only £1.50 (not increased for almost ten years) and you could get in for FREE if you come along and help out as a volunteer! Drop a line to our CONTACT page to get involved.