November 2014
Another year draws to a close!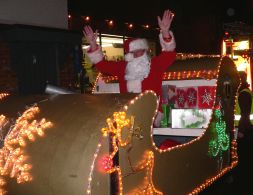 As another year disappears, the Meon Valley Lions Club is gearing up for a busy December. For many years we have supported Father Christmas as he travels the villages of the Meon Valley in his pre-Christmas practice runs, checking that all the boys and girls have been good. This year we have a really busy schedule planned for the festive period. If you'd like to see when Santa and his brightly lit sleigh are visiting your village, just go to the Santa page on this website for the full programme. We'll also be providing regular updates on our progress via our Twitter and Facebook pages.
Most years the donations we receive as part of our Christmas door-to-door collections fund raising activity exceed £4,000 and once or twice we have tipped the £5,000 mark. This is our biggest annual fundraising activity and an essential part of our programme that enables us to provide charitable support throughout the Meon Valley.

This year unfortunately the Lions have somewhat of a manpower crisis in December due to illness, business and family commitments amongst the members. If you, or anyone you know, would be prepared to help with our collections then we really would appreciative it. We need volunteer drivers, Santas and elves. Drivers need to be confident driving a long-wheel based transit van with trailer and we'll provide all the necessary training and safety equipment for the collectors. We usually depart from Swanmore at either 5:30pm or 6:15pm (depending on the destination) and return by 8:30pm. As a reward, we often count the proceeds in a local pub over a beer or wine. The aim is to make collections every weekday evening from 2nd December until 24th if we can get enough volunteers.

Photograph: Keep an eye out for Santa during December!

This year for the first time we also have permission to collect at Tesco in Fareham on Saturday 20th December. This is such a great opportunity for us that we would like to do so from 8am to 8pm which means six shifts of two hours. Again, if you are able to help or anyone you know is prepared to do so then please let us know. Call us on 01489 892750 or email meonvalleylions@mybtinternet.com and we'll explain everything.

Swanmore Carnival and Fete 2015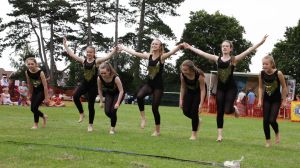 As one year ends, we're already planning events well into 2015 with the convening of the first meeting of the Swanmore Carnival and Fete committee. This year the theme is "Witches and Wizards" and the event will be held on the Saturday 11th July. Put it in your calendar NOW! As usual we'd like the Fete to provide an opportunity for local groups and charities to raise money for their own needs and causes. Our own resources are fully deployed on the day with event coordination, organisation and marshalling so we don't have much opportunity for fund raising ourselves. However we do have stalls like the plate smashing, coconut shy, play-your-cards-right etc that we offer up to other local individuals and groups to run. If you, or your group/charity would like to take advantage of this opportunity to fund raise, please make contact with us via the website. Our website has a dedicated carnival and fete page too and we'll be posting regular updates on acts and attractions as we book them.