November 2015
Ho Ho Ho! Here comes Santa...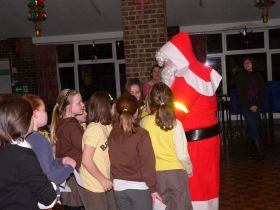 As another year draws to a close, the Meon Valley Lions Club is preparing for a busy December. For many years we have supported Father Christmas as he visits the excited boys and girls in the villages of the Meon Valley, in the run-up to Christmas. He just wants to make sure that all the boys and girls have been good and to get some forward warning on the Christmas present wish-list!
This year we have a really busy touring schedule planned for the festive period, plus we'll be at Wickham Square for the Christmas lights switch-on Wednesday 2 December and the Bishops Waltham Christmas Fayre on Thursday 3 December. If you'd like to know exactly where and when Santa and his brightly lit sleigh are visiting your street, just go to the Santa page on this website for the full programme. We'll also be providing regular updates on our progress via our Twitter and Facebook pages.

In 2014, the Father Christmas collections in December raised £4,812.35, just short of our best-ever amount for this Christmas charity bucket collection. Most years the donations we receive as part of our Christmas door-to-door collections fund raising activity exceed £4,000 and once we have tipped the £5,000 mark. This is our biggest annual fundraising activity and an essential part of our programme that enables us to provide charitable support throughout the Meon Valley. Do you know any individual, group, club or organisation who could benefit from support from the Lions organisation? If you do, get in touch via the contact us page on the website or phone 0845 833 7812.

This Christmas collection requires a huge effort from the Lions members during December and we are regularly helped out by other local volunteers including local Scouts and Guides. If you, or anyone you know, would be prepared to help with our collections then we really would appreciate any assistance we can get. We need volunteer drivers, Santas and elves. Drivers need to be confident driving a long-wheel based transit van with trailer and we'll provide all the necessary training and safety equipment for the collectors. We usually depart from Swanmore at either 5:30pm or 6:15pm (depending on the destination) and return by 8:30pm. As a reward, we often count the proceeds in a local pub over a beer or wine. The aim is to make collections every weekday evening from 1st until the 23rd December, if we can get enough volunteers. Call us on 0845 833 7812 or email meonvalleylions@mybtinternet.com and we'll explain everything.

Finally a grateful word of thanks to one of the Meon Valley Lions club's great supporters for help in getting our new storage container fully fitted out. Ed and the team at Equestrian Fencing, Shirrell Heath have kindly donated timber to create a frameworks structure inside the container for the racking for all our bits and bobs. Everything is now fully installed, with a place for everything and everything in its place!

Here are some action shots of our team... err, drinking tea and larking about!