November 2016
A golden pride of Lions – cheers!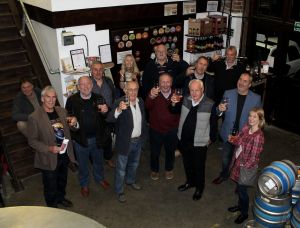 An excited band of a dozen Meon Valley Lions, plus some friends of Lions, recently took up the invitation to tour the Langham Brewery near Petworth in Sussex. Partners James Berrow and Lesley Foulkes, plus head Brewer Saulo, laid on a wonderfully entertaining and interesting evening, which everyone thoroughly enjoyed.
Langham's is a ten-barrel production plant, which has been lovingly refurbished with the support of the Cowdray Estate, who converted an 18th Century granary barn for the purpose in 2006. In their ten-year existence, Langham's have racked up (ha-ha!) a number of awards for their brews, including winner of West Sussex CAMRA beer of the festival, 2007and 2008. This has been followed by 16 more award-winning beers in the period since. In 2015, Langham was one of the first four breweries in England to gain a Cask Marque and the SALSA plus Beer accreditation, for its quality brewing processes and performance.
The production process is steam driven and all the ales produced are cask conditioned. This means that the beer is still "live" (unfiltered and unpasteurised) when it is dispatched to pubs and hostelries, with secondary fermentation continuing inside the cask. It became apparent in James's fascinating and illuminating talk, that much to the surprise of the guests, not all the beers passed-off in pubs as "real-ales" are in fact cask conditioned.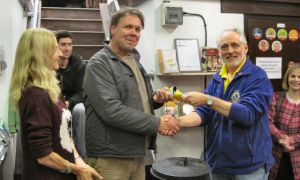 The Lions first got to know Langham's Brewery through its support for Fleet Lions Club, who run their own charity beer festival each August. With Lions Clubs International about to reach its Centennial year in 2017, Fleet Lions approached the brewery to consider producing a special Centennial celebration ale, to mark this milestone. Langham's gladly agreed and Lions Golden Pride was born.
On the evening of the brewery tour, we were joined by Jim Storey from Fleet Lions, who organises the Fleet Beer festival and had originally come up with the idea for the Lions Golden Pride Ale. It was with great pleasure that he was able to tell James and Lesley that the Lions Golden Pride had been voted "Beer of the Festival" by the 1,000 punters who had attended the Fleet beer festival back in August. That's a pretty good achievement, winning the vote against over 40 other real ales! Meon Valley Lions President, Ian Adams presented a certificate to the brewery, recognising yet another award for this outstanding local venture.
Photographs: TOP - Meon Valley Lions raise a glass of Lions' Golden Pride
BELOW - James and Lesley receive a "Best Beer in Festival" award for Golden Pride, from MVLC President Ian Adams
Lions' Centennial celebrations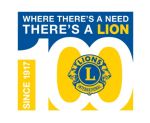 Lions across the world will be celebrating the organisation's Centennial in 2017. It has been one-hundred years since Melvin Jones, a 38-year-old Chicago business leader, told members of his local business club they should reach beyond business issues and address the betterment of their communities and the world. Jones' group, the Business Circle of Chicago, agreed and Lions was born.
Meon Valley Lions will be dedicating next year's Lions' Swanmore fete as a centennial celebration event to mark the occasion. More details about our Centennial celebrations and the Swanmore fete in our next news.