November 2017
Fund-raising for a great cause!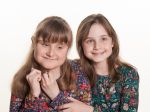 The Meon Valley Lions barbeque was busy again this October at the bi-annual Wickham charity beer festival. As well as raising over £700 from the sale of burgers and sausages, we took the opportunity to organise a bucket collection and dedicate the fundraising at this event to a specific project – a special Duet-bike for Ella!
Ella who lives in Shirrell Heath is 10 years old and suffers from Rett Syndrome, a rare neurological disorder resulting in severe mental and physical disability. There is no known cure. The specially adapted bike costs £7,334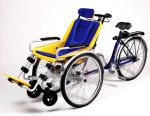 and will allow the whole family (including her twin sister) to enjoy time together going on cycle rides, whilst she still has some awareness of her surroundings. The family, with donations from Rotary Club and the Pindar Trust, had already raised £4,419. The Lions intend to make up the remaining £2,915 from the Beer festival BBQ takings, the generous £168 donated in our collection buckets by the drinkers, plus the balance from our charity funds. This means that Ella's family should be able to order the bike in time for Christmas – which is a great result.
Photographs: Ella and her twin (top)and the duet-bike we're part-funding (below)

Christmas is coming, Santa needs to lose some weight…

Unbelievably, we already find ourselves on the downhill run to Christmas! The Lions are well advanced with planning the annual tour of the Meon Valley villages with Santa and his Sleigh, which has been brought out of storage to be given a wash and a lick of paint for this year's fun!
Santa and the Lions will be out and about throughout the month of December, with visits to all the villages from East and West Meon at the top of the valley, to Wickham, Boarhunt and Knowle at the bottom. He'll also be on duty on the Saturday mornings running up to Christmas at Wickham Square, Bishops Waltham High Street and Swanmore Village Store. It takes a lot of time and effort helping Santa over the three-and-a-half-week period and we are grateful for the support of other local groups such as the Scouts and Guides, allowing us to put enough feet on the ground. If you are able-bodied and fancy helping us out as a volunteer, we'd be grateful to hear from you. Use the "contact us" facility on our website.

The full Santa sleigh schedule will be published on the special Santa page on this website. We raised over £4,100 last year – let's see if we can surpass that this time!

Lions Swanmore fete 2018

While we are in forward-mode, dreaming of Santa and wishing away 2017, spare a thought for the organising committee who are already working on plans for the Lions' Swanmore fete 2018. We want to make it as big and fun as previous years and will be publishing the programme through our news updates and on our website. Put the date in your diary NOW – Saturday July 14th 2018
Zone Champion!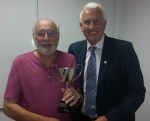 Lions is the largest volunteering organisation in the world and there are hundreds of Lions clubs dotted around the UK, with thousands of members. We have a network structure to provide support and communication to and from the centre, organised into Districts and Zones. So, it was with great pleasure that Roy Cuthbertson from the Meon Valley Lions Club, received recognition for his contribution as the best Zone Chairman during 2016-17. He was presented with an award, following a visit from the out-going District Governor, David Taylor. Well done Roy!