October 2016
Cheers to a great charity fundraiser!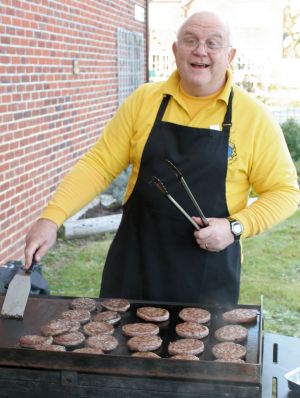 A few weeks after the highly successful Wickham Food Festival we were back in town at the Community Centre. This time, Meon Valley Lions Club was pleased to be supporting the Wickham Charity Beer Festival with the Saturday night BBQ. This increasingly popular beer festival now regularly attracts over five hundred real ale aficionados to the events each April and October. The October beer festival was the 17th that Dave, Mike, Ashley and team have organised and they presented the punters with a fantastic array of over forty draft ales and ciders from which to choose.
The festival is a great community event, but let's not forget that it also raises significant amounts of money for local causes and charities in the process. It was announced shortly after this latest festival that across the period of the 17 Wickham Beer Festivals, the team has raised over £110K for various charities. The Lions have supported the event for 15 of those 17 events and our records show that we have raised a further £11,500 through our BBQ activities. That's a lot of help for those in need in this part of Hampshire, so well done everyone involved.
Our thanks must go to our regular, local suppliers and sponsors at Westland's Farm Shop, McCarthy's Superstall and Tesco's Fareham for providing such great quality ingredients. We're looking forward to the April Festival already.
Photograph: Lion Pete Meadows – Super chef!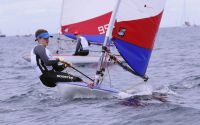 The monies that Meon Valley Lions Club raises each year amounts to around £18,000 and we redistribute it to a variety of causes. Around 80% of the money we raise goes to local individuals, clubs and organisations, with the rest directed to national and international projects. Back in the summer, under our youth programme, we agreed to sponsor a 15-year old sailor from Bishops Waltham called Jake Bowhay, who is striving to make a name for himself in the world of Topper class sailing. Jake attended our October business with a PowerPoint presentation to explain just how our money had been used to help him travel to, and compete successfully in, a number of national and international sailing competitions. His presentation and his achievements really impressed the assembled Lions who were delighted to hear how our support can bear fruit in this way. He now plans to move on to a new class and hopefully even greater success.
On the international front, Meon Valley Lions, together with other clubs across the world are now mobilising cash and relief kits for the Haiti Hurricane victims, which are being channelled through Lions and Leos clubs in Port au Prince. If you would like to donate, please drop us a line via the contact page on our website.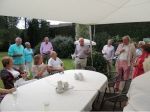 Finally, as part of our regular social programme, we ambitiously squeezed in a late-summer, garden tea party. Thanks go to our hosts Roy and Sue Cuthbertson for organising splendid hospitality and presenting such a superbly manicured lawn for the occasion!