October Newsletter
The Taste of Wickham brings out the crowds!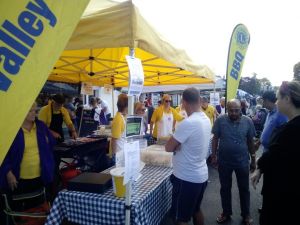 Our BBQ kit was given another good work-out this year at the annual Taste of Wickham event, which was celebrating its sixth year. As previously, we teamed up with Tull's the local Wickham butcher (now known as the Meon Valley Butcher), setting up our BBQ stall right outside the shop. We started early, whipping up early-morning bacon butties for the village team and stallholders. As the day progressed and the crowds began to fill the square, we turned to cooking the more familiar sausages and burgers; the pace rarely slackened and by mid-afternoon we ran out of food. We've done the sums and thanks to the generous support of the Meon Valley Butcher and the support of the local community we have cleared over £1,400 for charity. Thanks to everyone or their support.
Giving a helping hand…
We've had a busy few weeks helping those with need in the Meon Valley.
Working with Team Hybrid in Knowle, a specialist wheelchair was purchased for a young lady with mobility issues. She feels it will make a big difference to her ability to enjoy the outdoors and improve her independence. We were contacted to help two struggling families with young children, both dealing with a mini crisis. One was struggling with a broken fridge and the other a broken washing machine, neither items were economical to repair and neither family had the means to replace the items making life more difficult. We were happy to step in a get replacements so life could return to normal.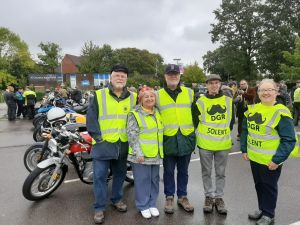 In addition to raising money for local people, we like to help other organisations and this month some of us turned out marshal the 90+ Solent Distinguished Gentleman's Ride, which unites classic and vintage style motorcycle riders all over the world to raise funds and awareness for prostate cancer research and men's mental health – A damp but enjoyable day out.
From time to time we get requests from local youths (Scouts and Guides) to assist with funding worthwhile trips. This year we helped towards costs for a Scout to go to the World Scout Jamboree and next year are supporting two Scouts going on an expedition to Tanzania who will be doing volunteer work to help modernise a school and a Bishops Waltham Guide who has been selected to attend next year's European Jamboree in Poland.
A big thank you for generous donations
We'd like to say a special thank you to the Resident's Association at Upper House Court in Wickham who made a generous donation of £184 and a resident who donated a further £100.

Keep your eyes out for Santa and his shiny new Sleigh!
Can it be that it's nearly Christmas already? Yes – and the Lions are well into planning the annual tour of the Meon Valley villages with Santa and his Sleigh. Santa's helpers have been extra busy building him a shiny new sleigh ready for this year's fun!
Santa and the Lions will be out and about throughout the month of December, with visits to all the villages from East and West Meon at the top of the valley, to Wickham, Boarhunt and Knowle at the bottom. He'll also be on duty on the Saturday mornings running up to Christmas at Wickham Square, Bishops Waltham High Street and Swanmore Village Store and across to Denmead.
The full Santa sleigh schedule has now been published on the special Santa page or our website.
We raised over £4,500 last year – let's see if with your help, we can surpass that this time!