September 2015
A festival of fine food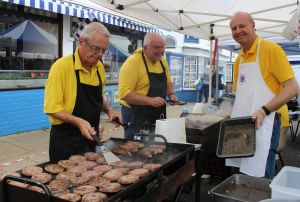 Meon Valley Lions Club were once again delighted to support the Taste of Wickham Festival on Sunday 13 September. Now in its second year, this imaginative food festival has already built a county-wide reputation, with 60 stalls show-casing the very best in local food, drink and produce, complemented by cookery demonstrations, live music and family activities.
The Lions were there from 9am on the Sunday morning, setting up the barbeque for what was to be a frantic few hours, keeping pace with demand from the five thousand hungry visitors who turned up on the day – an increase of over a thousand on the previous year's turnout. Our two barbeques ran non-stop for about five hours, during which time our 13-strong catering team of chefs, food preps, runners and servers managed to dish-up 724 individual servings. That's a running average of over two burger or sausage servings every minute. It was a combination of good fortune and smart thinking by the organisers that the Bowman Ales stall was located close by, facilitating much needed sustenance to the hard working Lions' staff!

Our grateful thanks go to Tull's the local Wickham butcher, for providing all the choice meats for this event and particularly Ben Sawyers for letting us take over his cold store and for accommodating all our demands. Also, we acknowledge the support of our other suppliers, McCarthy's Super Stall and Tesco's (Fareham) for providing the onions and bread products respectively.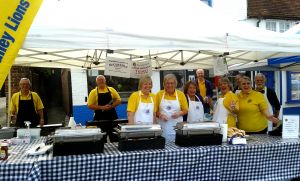 At the end of the day we expect to clear around £1,400 for our charity account – monies that will be ploughed back into community programmes in Wickham and other Meon Valley villages. Two other people also deserve mention. Lion John Ormiston and Michael White spent the day sharing driving duties in the Lions' minibus, providing a free park and ride service to the many visitors needing to get from the outlying parking areas to Wickham square.

The status that a Taste of Wickham has achieved in two short years is a reflection of the hard work of the organising group, comprising the Chamber of Trade, Wickham Paris Council and Hampshire County Council's Area Development Team. Hopefully they will have the appetite and energy to do it all again next year – if so we will be there!

Now there is just time to draw breath, clean down the barbies and launder the aprons before we fix our sights on the next big BBQ event in the form of the Wickham Charity Beer Festival. We'll be there in full force on Saturday 10 October – we look forward to seeing you! (Full details on our Events page.)

Photograph: (Top; left to right) Chefs Roger Morfill and Pete Meadows in full flow, ably assisted by food-loader Andrew Brown. Below - the full team