September 2018
A summer of fun and fund raising
As autumn approaches and the memories of a fantastic summer fade, the Meon Valley Lions can look back at an exciting few months of fund-raising and frolics.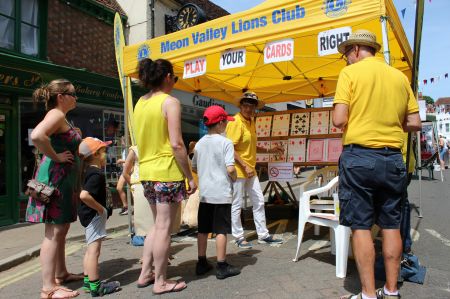 During the summer we were busy attending numerous community and charity fund-raising events, as well as organising and running the annual Swanmore fete. June and July were particularly hectic, with our teams attending some event or other, most weekends. One of the new events on the calendar was the Bishop's Waltham "KidsTreat" fun day organised by the Bishop's Waltham Town Team. Based on a concept someone had seen while on holiday in Portugal, the idea was to give over the whole town centre for an afternoon of fun activities and games, purely and simply to entertain the young people of the town. Despite some tough competition from an England football game, there was a massive turn out and everyone seemed to have a splendid few hours courtesy of the numerous clubs and charities who volunteered to provide the activities. The Lions presented their "Play Your Cards Right" game and with over 200 children taking part, seven managed to beat the odds to win a box of chocolates. Some of the less-than-capable parents paid £1 to play the same game and of course, there were NO winners – except the Lions, who raised around £75 from the proceedings for charity!
Photograph: The tension mounts at the PYCR stall!

Each year, Lions clubs across the south unite to provide a fun day out for disadvantaged kids at Paulton's Park, the popular Hampshire theme park. We donated 105 discounted family tickets at £11 each, to Meon Valley families nominated via Home Start, the Rainbow Centre, Young Carers and Family Support Services. Lions Sue, Eddy and Hilary were in attendance to ensure everything went well, although Sue declined to wear the fluffy Lion suit this year, on account of the high temperatures! Some families had five children attending, others only one, children under one metre in height went in free of charge, as did those in wheelchairs, therefore, our 105 tickets probably benefited around 200 recipients. This sort of activity is the kind of community event Lions love to support, because it isn't simply about helping out individuals with a cash handout – it's more about putting a smile back on somebody's face.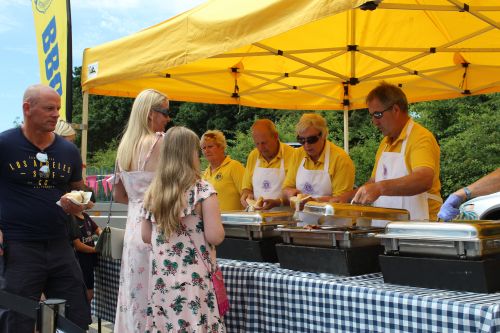 One of the organisations we support in the local area is the Rainbow Centre in Fareham. The Centre has been operating for 27 years and relies heavily on donations to deliver its Conductive Education programmes for children and adults, from all over Hampshire. The special programmes encourage children and adults to improve mobility and movement in the face of disability caused by cerebral palsy, adult-stroke, brain injury, Parkinson's disease or similar. In June, the Lions once again volunteered to deliver the barbeque catering at the Centre's recent annual Fun-Day event, selling hundreds of sausages and burgers and raising £1,000 in the process. The money raised will go specifically to the Rainbow Centre's "Helping Hand" Fund which is there to help participants of all ages to access services they otherwise couldn't afford.

Pictured: the Rainbow Centre BBQ
If you'd like to get involved with Lions and do some worthwhile work in your local community, why don't you make contact? Drop us a line via our contact page and we'll invite you to one of our many social events, where you can meet the team and learn more.